McNish eyes Le Mans hat-trick
Scot ready to banish memories of 2011
Last Updated: 17/06/12 3:22pm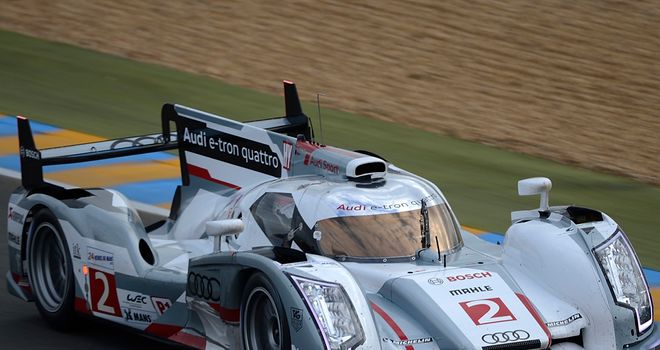 Allan McNish is confident of challenging for a third Le Mans title
Allan McNish is targeting a third Le Mans victory this weekend as he looks to banish the memory of his crash last year and guide his Audi team to success.
McNish, 42, won the endurance race in 1998 and again in 2008 but was involved in a huge accident less than an hour into last year's event.
This year McNish, who has also driven for Toyota in Formula One, will be racing a radically-designed Audi R18 e-tron Quattro along with his co-drivers Rinaldo Capello and Tom Kristensen and he is looking to soak up the pressure and collect his third Le Mans title while not letting last year's disappointment affect him on the track.
"I definitely think that three (wins) is a better number than two," he told Press Association Sport.
"The pressure side of it is always there, no doubt about it. But I have won two more Le Mans than Mario Andretti as an example and Mario is an absolute legend in motorsport and won everything else but never won at Le Mans.
Competitive
"It (the crash) has no relevance to be honest, I've raced since then and I've won since then."
Meanwhile another former Formula One driver, Martin Brundle, will be racing in the LMP2 class - a step down from the main LMP1 racers - and the seasoned F1 commentator believes the best of the action may take place in his division.
"I think LMP2 could be the story of Le Mans this year, with Peugeot having pulled out of LMP1, which will be a bit of an Audi-fest," he said.
"There are 20 cars in our class and the teams and drivers are incredibly competitive."
Brundle will be driving for Greaves Motorsport alongside his son Alex plus Spain's Lucas Ordonez and the 53-year-old is looking forward to racing at Le Mans once again.
He said: "It's like an entire grand prix season all in one day - the thought that when the sun comes up you've still got eight or nine hours to go.
"It's an amazing race track, scary, and to try to master it, work with the team and also to meet the fans, who are very knowledgeable. It's a real event and great to be a part of.
"This time I'm going on a more relaxed basis, but in a way that's harder because I'm getting a lot less time in the car and less input into its development."