Hunter-Reay masters Milwaukee
Andretti driver wins for boss who rescued historic race
Last Updated: 17/06/12 1:29pm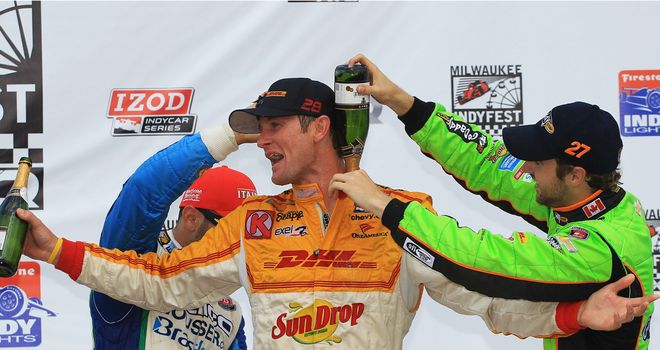 Ryan Hunter-Reay: First win of season
Ryan Hunter-Reay claimed a sixth career win and his first this season with victory in the Milwaukee Mile on Saturday.
The Andretti Motorsport driver's triumph was particularly appropriate, as it had been down to team owner Michael Andretti that a race had taken place at all at the historic circuit.
Back in February Andretti had come to the rescue of the financially troubled Wisconsn track by stepping in to act as race promoter for the event.
And just before the start on Saturday the man responsible for bringing IndyCar back to Milwauakee announced that the race would also return next year.
"What a race. The script is perfect," Hunter-Reay who won at the track in 2004 in the now-defunct Champ Car Series, told www indycar.com.
"Michael (Andretti) loves the sport and does a lot for it. Milwaukee and IndyCar go hand-in-hand. This is the oldest racing facility in the country and we just won. It's awesome."
After a start delayed for around an hour-and-a-half due to rain, pole-sitter Dario Franchitti dominated the early stages, leading the first 60-plus laps before making his first pit stop.
Physical
But last year's Milwaukee winner, fell back in the field and then spun out and hit the wall on lap 195 of the 225 lap contest.
Hunter-Reay, who began in second, grabbed the lead from Helio Castroneves in Turn 3 on Lap 142.
And the 31-year-old Texan stayed out front for the remainder of the race, holding off Tony Kanaan's challenge in the latter stages to finish 5.1029 seconds ahead of the Brazilian.
"It was one of the most physical races I've ever driven," said Hunter-Reay. "You're always on edge, always busy in the car."
Kanaan said: "I didn't have anything at the end for Ryan, but great event, I love to see the stands as full as I've ever seen here.
Thanks to Michael and his people who put this event back together. I love this place. It was a long day, but this is typical Milwaukee.
"That's why I love this place. You've got to drive it. If you don't drive it, you never get it, so I'm extremely happy."
James Hinchcliffe finished third with Oriol Servia and E.J. Viso further back in fourth and fifth respectively.