Wilson triumphs in Texas
Dale Coyne driver wins Firestone 550 after late Rahal crash
Last Updated: 10/06/12 12:00pm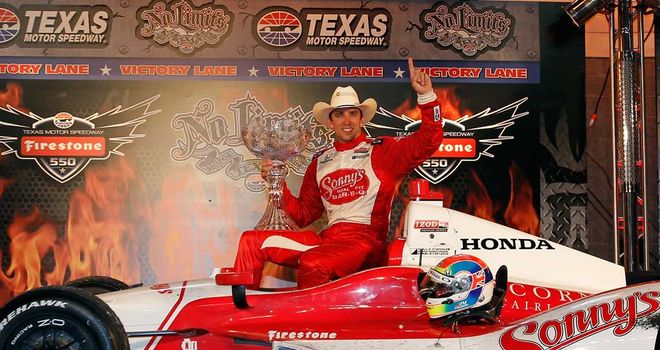 Justin Wilson: Surprise victory
Britain's Justin Wilson took full advantage of Graham Rahal's late exit to clinch a surprise victory in the IndyCar Firestone 550 on Saturday.
Wilson passed Rahal with just over two laps remaining at the Texas Motor Speedway after the Chip Gaassi pilot crashed into the outer wall.
The 23-year-old American managed to keep the weaving car going along the course but Wilson grabbed the lead on the back straightaway of the penultimate lap.
The Englishman, who started 17th, remained at the front for the final 1.5 laps to claim his first ever triumph on an oval circuit.
"That's just fantastic. I just can't believe we managed to pull this off," said the 33-year-old from Rotherham.
Damage
"I saw him sliding more and more every lap. I didn't think there was much chance. When I saw him hit the wall I knew I had to go for it. You had to hang on going around out there."
The 228-lap contest was only the season's second oval race after last month's Indianapolis 500, won by Scotland's Dario Franchitti.
Despite the damage to his car, Rahal managed to hang on for second place, with Australian Ryan Briscoe back in third.
"This one could haunt me forever that's for sure," said Rahal, who had looked set for his first triumph since his 2008 IndyCar debut.
"I just messed up. It's my fault. There's not much else I can say... certainly disappointed because we had that one."
Caution
"It was a good result," said Briscoe. "I had the track position at the end but just didn't have the car at the end.
New Zealander Scott Dixon led 133 of the first 174 laps before season points leader Will Power, passed him with 57 laps to go.
But just three laps later Australian, who has three triumphs to his name this year, crashed in turn three, causing a caution period that enabled the leaders to make their final refuel stops.
Power battled side-by-side with Briscoe after the restart but he was ordered into the pits for a drive-through blocking penalty on lap 33, to hand Briscoe in the lead.
But Rahal passed the Kiwi with 29 laps left, setting up the dramatic finale for Wilson, who led for a total of only 11 laps during the race.