Super Dario does it again
Sato sees his hopes of creating history disappear on final lap
Last Updated: 27/05/12 9:58pm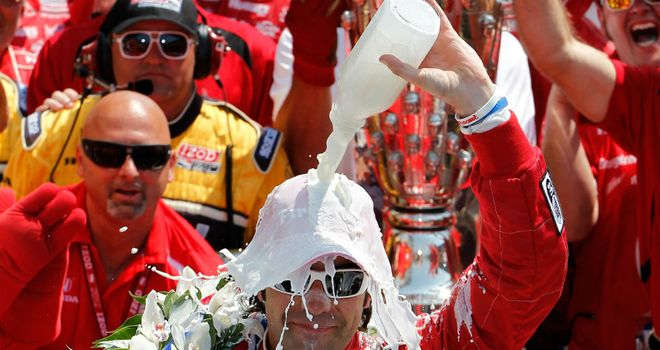 Dario Franchitti: becomes just the 10th driver to win at the Brickyard at least three times
Scotland's Dario Franchitti won the 96th Indianapolis 500 on Sunday to join a select group that have triumphed in the race three times.
Having started from 16th on the grid, Franchitti carefully worked his way through the pack before crossing the line under a caution flag following a crash involving Takuma Sato.
The Japanese driver paid the price for trying to cut inside the leader on the first of the four turns on the last lap, ending his hopes of victory.
Franchitti dedicated the win to the late Dan Wheldon, the Englishman who won the Indy 500 in dramatic circumstances last year but was killed in a season-ending race in Las Vegas.
Proud
"What a race. I think Dan Wheldon would be proud of this one," the 39-year-old said.
Franchitti also won the Indy 500 in 2007 and 2010 and became just the 10th driver to win at the Brickyard at least three times.
His Chip Ganassi Racing team-mate Scott Dixon came home in second at the end of an incident-packed race that saw the lead change hands 10 times.
Tony Kanaan lost the lead on a restart with six laps to go around the 2.5 mile Indianapolis Motor Speedway oval. In the end the Brazilian had to settle for third place.
Sato moved past Dixon into second with two laps remaining but, after failing in his bid to move past Franchitti, ended up finishing in 17th.
"I was going for the win," he said. "Very last lap, good tow from Dario. I saw a good opportunity to the inside. It looks like he didn't give me enough room to go there. I was below the white line.
"I was already in (position). He didn't move up. Kept on pushing. I had nowhere to go. It's a little disappointing."