Perfect start for Penske
Will Power finishes first to maintain team's perfect start
Last Updated: 16/04/12 7:51am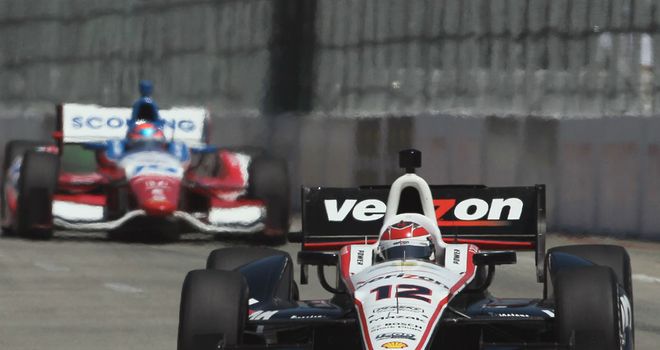 Will Power: Makes it back-to-back wins after finishing first at Long Beach
Penske Racing maintained their perfect start to the IndyCar Series courtesy of Will Power's first-place finish at Long Beach.
Helio Castroneves claimed the curtain-raiser in St Petersburg and now Power has won a second consecutive race after finishing first at Barber in Alabama last week
The Australian did it the hard way having started 12th on the grid after being one of the 11 Chevrolet drivers penalised for changing the engines as a precautionary measure when teams reported in.
"After last week, you can never say never, but I thought it would be very tough to win the race."
Will Power Quotes of the week
"After last week, you can never say never, but I thought it would be very tough to win the race," he said after driving from ninth to first to win at Barber.
"We worked hard, we got a penalty and we overcame it. I've been trying to win here for four years."
In the end, despite the penalties, Chevrolet drivers claimed eight of the top-10 finishing spots.
Hard-charging
After picking his way through traffic, Power still had to hold off hard-charging Simon Pagenaud to preserve the win - Penske's first at Long Beach since 2001.
Pagenaud made it close, but traffic hurt his chances and the rookie settled for a career-best finish of second for Honda.
Takuma Sato seemed to be heading for a third-place finish, but was spun on the last lap by Ryan Hunter-Reay. IndyCar assessed a 30-second penalty on Hunter-Reay, so third place went to James Hinchcliffe in his first career podium.
It was a messy race from the start as rookie Josef Newgarden's aggressive move on leader Dario Franchitti backfired.
Newgarden was moved to the front row after the Chevrolet's were penalised, and the 21-year-old joked after Saturday's qualifying that he might try to pass Franchitti immediately because the four-time champion would not be expecting such a bold move. Newgarden backed up his words, and tried to get past Franchitti on the outside as they headed into the first turn.
There seemed to be some contact between the two, and Newgarden's car sailed into the tire barrier, ending his race without a single completed lap.
"I just got touched on the exit, went right to the wall. Maybe it wasn't the right move," Newgarden said. "I thought I had a good run on him and got a good jump on him. Maybe I probably should have just it's a tough call."
That immediate incident set the tone for a rough race, with a hard crash between Marco Andretti and Graham Rahal the most frightening moment of the day.
Disagreed
The drivers disagreed on who was to blame for the collision that resulted in Andretti's car sailing up and over Rahal's before spinning into a barrier.
"It's a cluster back there," Rahal said. "I think I surprised Marco. He wasn't going to make the corner no matter what."
Andretti thought Rahal intentionally cut him off and should have been penalised.
"There is one thing, blocking, but there is another thing, chopping," Andretti said. "That was a chop. I'm lucky I didn't get upside down. I could have been killed."
During the yellow flag for IndyCar to clean up the mess from the Andretti wreck, Scott Dixon's car came to a complete stop on the track to punctuate a rough day for the Target Chip Ganassi Racing drivers. Franchitti never could stay out front, he was passed on the first restart by Justin Wilson, faded back through the field and suffered damage to his car when he ran into Ryan Briscoe on another restart.
Franchitti, who started from the pole because of the Chevrolet penalties, finished 15th.
Briscoe, meanwhile, never got to enjoy his pole-winning run. The penalties pushed him back to the 11th starting spot, and although he eventually made it back to the front during the cycle of yellow flags and pit stops, he wasn't able to stay there.
And, contact between Briscoe and team-mate Castroneves hurt Briscoe's chances to contend for the win.