Stephane Peterhansel leads the Dakar Rally after clawing back a 34-second deficit
Last Updated: 07/01/13 9:26am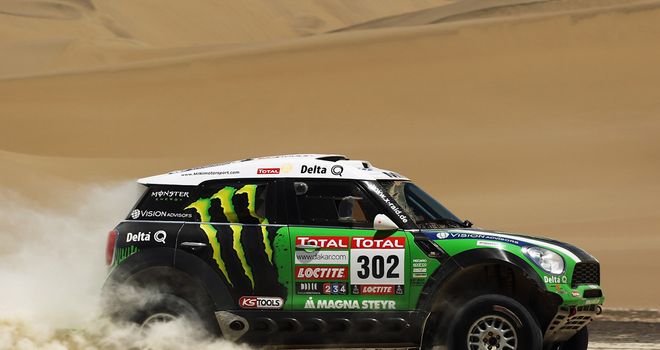 Stephane Peterhansel: Stormed into the lead on Sunday despite a large overnight deficit
Defending champion Stephane Peterhansel stormed into the lead of the Dakar Rally on Sunday, despite holding a 34-second deficit overnight.
Former winners Carlos Sainz and Nasser al-Attiyah fell off the pace, allowing Peterhansel to claw back the dearth.
The Frenchman, a ten-time champion on the world's toughest auto endurance race, took his mini to victory in the second stage - a 242km timed run in and around Pisco, in 2hr 35min 38sec.
"We had a good stage, mainly thanks to navigation. We're fast, and we've got the potential to go even faster, but it was mostly (co-driver) Jean-Paul Cottret's navigation which saved the day, nothing else," said Peterhansel
South Africa's Giniel De Villiers followed 2min 35sec behind, while fellow Frenchman Ronan Chabot, in an SMG, was third, 3min 52sec off Peterhansel's pace.