Dakar Rally: Carlos Sainz wins fourth stage of Dakar Rally and claims overall lead
Last Updated: 08/01/14 10:33pm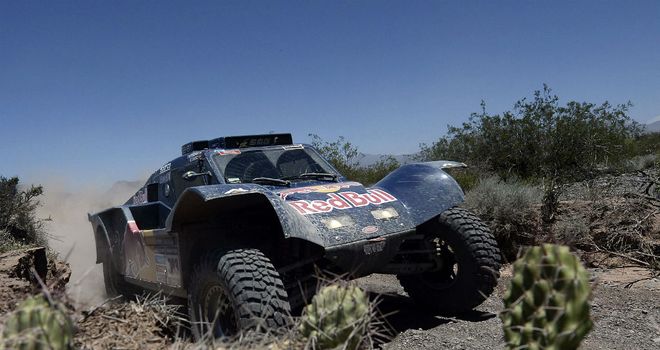 Carlos Sainz: The SMG Buggy driver won stage four on Wednesday
Spain's Carlos Sainz won the fourth stage of the Dakar Rally and claimed the overall lead on Wednesday with defending champion Stephane Peterhansel being struck down by punctures for the second day in a row.
SMG Buggy driver Sainz, the 2010 Dakar champion, finished more than six minutes ahead of Peterhansel, an 11-time winner on four wheels and two, with Qatar's Nasser Al-Attiyah, the 2011 victor, taking third place on the run from San Juan to Chilecito.
It was Sainz's 26th career stage success in the event and secured him an overall advantage of 2 minutes 06 seconds on overnight leader Nani Roma in a Mini.
Despite his problems, Frenchman Peterhansel did manage to claw back a few minutes after a disastrous third stage on Tuesday saw him suffer six punctures in his Mini, but he remains over 18 minutes behind Sainz.
"At the beginning we had to drive in the dust, but little by little we managed to overtake several cars," said Sainz.
Lucky
"We also got a bit lucky when, about 10 km before the finish, our power steering broke down in a narrow spot amid all the vegetation, but we easily made it to the finish all the same."
In the motorcycle section, Spain's Juan Pedrero took the stage honours, while Frenchman Cyril Despres, the defending champion, was the victim of an engine breakdown on his Yamaha which saw him fall a total of 41 minutes and 17 seconds behind overall leader Joan Barreda.
Despres had been second in the standings overnight, but he needed to stop for more than half an hour to fix the engine problem which was believed to have been caused by an electrical fault.
"My positioning system broke. I had to do a little handiwork to repair it," Despres explained. "But I am not discouraged. The day that I give up is the day I go home. I love this race and there are plenty of stages left before the finish at Valparaiso on January 18."