Duo celebrate rally finish
Tony Jardine and co-driver Bob McKenzie finished 35th overall in the Wales Rally GB at the weekend.
Last Updated: 15/11/11 2:34pm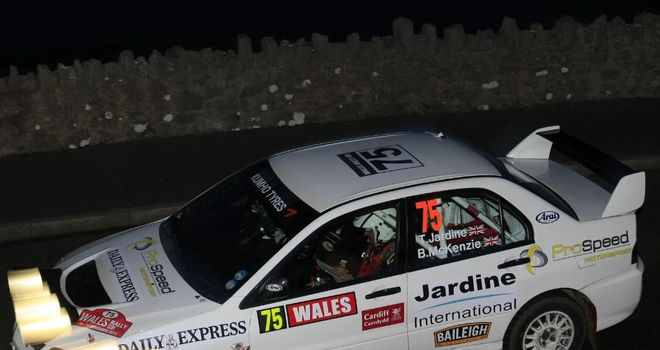 Tony Jardine finished a credible 35th overall in the Wales Rally GB at the weekend.
The Sky Sports F1 analyst and co-driver Bob McKenzie, who were competing in the event for the third time, topped their previous best finish in 1993 when they finished 37th.
The Sky Bet/ProSpeed Mitsubishi Lancer Evo 9 performed well to shoot up the leaderboard on the final day after starting in 56th position.
McKenzie said: "It's very emotional for us to finish let alone beat our previous best result."
The duo had suffered a testing start on a gruelling opening day in the Welsh forests after suffering minor suspension damage after slipping into a wall in the slippery conditions during the Great Orme stage.
Jardine said: "Unfortunately, the cars ahead of us had cut a few corners, dragging dirt onto the stage and we made contact with the wall.
"Bob and I were simply passengers, luckily the wheel took most of the force and we were able to complete the following stages."
After Thursday's tricky start the duo moved up to 49th after 11 special stages of the event on the gravel of Garteiniog, Dyfnant and Dyfi East and West.
The following day Jardine and McKenzie, the Daily Express' F1 columnist, had to dig deep to overcome their troubles during 128km of competitive stages in the Welsh forests.
Jardine said: "We had a puncture and to make matters worse we had difficulty with a sticking wheel nut and we twisted the wheel brace trying to remove the wheel. We then had to use spanners, which took us 12 minutes."
But the pair showed great determination on the final Monument stage to claw their way through the field.
McKenzie added: "It's been a real rollercoaster from clanging from a kerb on the Great Orme to setting an incredible time on the Monument stage. This weekend really did demonstrate the highs and lows of rallying."
The event was won by Finn Jari-Matti Latvala in a Ford Fiesta.