MotoGP Japanese Grand Prix: Dani Pedrosa sees off Jorge Lorenzo in Motegi
Last Updated: 14/10/12 5:29pm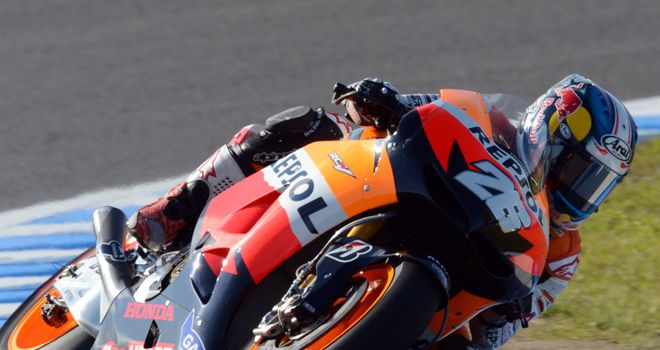 Dani Pedrosa: Claimed victory in Japan
Dani Pedrosa has beaten MotoGP championship leader Jorge Lorenzo to win the Japanese Grand Prix.
The Honda rider overtook pole-sitter Lorenzo on the 12th lap of the 24-lap race and stayed in front to claim victory in 42 minutes 31.569 seconds.
Yamaha rider Lorenzo finished 4.275 seconds behind the Spaniard, with Alvaro Bautista third on a Honda 2.477 further back.
Pedrosa has now claimed victory in four of the last five races to close the gap on Lorenzo in the title race to 28 points with three races remaining in the season.
Lorenzo, who had earlier claimed his sixth pole position of the season, led the way around the first bend with Pedrosa left trailing.
But Pedrosa overtook Lorenzo at the halfway point after narrowing the gap on his compatriot, which had stretched to nearly four tenths of a second at one point.
Pedrosa continued to pull away to secure victory and leave Lorenzo with an increasingly slender looking championship lead ahead of next weekend's race in Malaysia.
"It was a hard race because from the beginning the pace was very fast," said Pedrosa.
"At the beginning, I tried to understand the bike because yesterday it had some chatter (vibration after braking).
"There was one moment I could get right with a right-hand corner so I could pass him and I tried to pull some good laps. I suffered a lot of chattering during the race but I could manage."
Lorenzo said: "I was completely at the maximum trying to stay with Dani but today we had such different performances on the straights and he was also riding really well.
"I tried to stay with him but it was impossible.
"Maybe next time it will be different. For sure the championship is closer now, but we are still very competitive and have the chance to win."