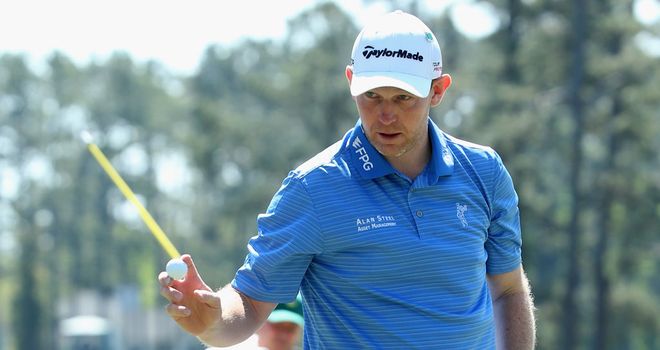 Stephen Gallacher: Brilliant start on his Masters debut
Scotland's Stephen Gallacher was thrilled to open his first Masters appearance with a one-under-par 71.
Gallacher, a veteran of the European Tour, found himself in second place early on after a flawless outward 33.
However, a hat-trick of bogeys from the 10th took him back into the pack before he birdied the long 15th to finish under par.
"I was quite happy to play a decent front nine, hit it where I was trying to hit it and played it perfectly to be honest," he told Sky Sports.
"I hit one poor drive at 10, played 11 and 12 the way I wanted to and all of a sudden I was level. But I was happy to get it up and down at the last to stay in the red."
Experience of Augusta is a key factor in playing well at the Masters and Gallacher benefited from his practice rounds earlier in the week.
"I played with Sandy Lyle in practice as well as Miguel Angel Jimenez and Jose Maria Olazabal who have played here a lot and their advice was not to go for flags, just play for position," he added.
"It's a special course, and it is all they say it is."
Sweden's Jonas Blixt was another debutant prominent on the leaderboard in the morning and he reached four under par through 14 holes before eventually signing for a round of 70.
"You have to down-play it a bit. There are three more rounds. On every hole you can hit the greatest shot of your life or the worst shot of your life," he said.
"You just have to focus on where you are at the moment. It is fun to be up there but you have to stay in the present. I learned a lot from the pin positions today and I just have to go out and learn some more tomorrow."
Jordan Spieth, the 20-year-old American who last year became the first teen PGA winner since 1931, opened with a one-under 71.
"I'm very happy with it," Spieth said. "One-under is a good score. The course is playing difficult for everybody. I'm very pleased."
"I was really patient, consistent. My only two bogeys my speed was just off on the first putt. I can take a lot from that. And that's very positive going forward because you're going to have some putts that make you scratch your head."