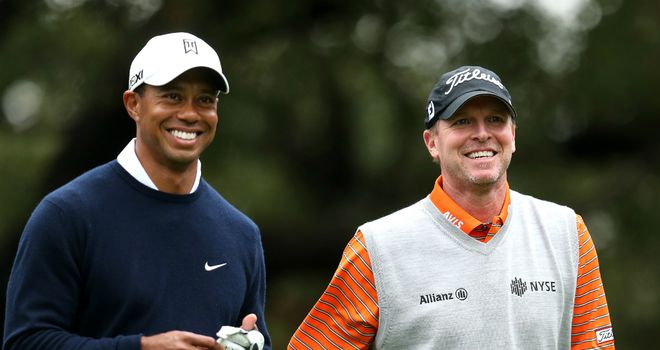 Tiger Woods and Steve Stricker: Share a round together
Steve Stricker has revealed he was impressed with Tiger Woods' form ahead of this week's Masters when the pair played together on Sunday.
Stricker is partly responsible for his Ryder Cup partner's resurgence this season after giving him a putting tip ahead of the WGC-Cadillac Championship at Doral which the world No 1 went on to win for the seventh time.
Stockton: Woods knows how to win
"I played 14 holes with him on Sunday and he's hitting it nicely," said Stricker.
"Looks like he's got a ton of confidence in that putter too, which you need to go around here or anywhere if you're going to win a golf tournament.
"It looks like he's comfortable in his game and what he's doing and I expect him to be in the mix come Sunday for sure."
Surprised
On Sky Sports
January 1, 1970 1:00am
Woods has not won at Augusta since 2005 when he pipped Chris DiMarco in a play-off to win his fourth Masters title.
"I am surprised, I didn't realise it's been that long since he won," said Stricker. "And everything about this course is suited for his game.
"He's had a couple of opportunities in there but all that can all change over this next week and I'm sure he's going to get right in there.
"It seems like he's in a good spot. He's happy and he's relaxed and he just feels good about what he's doing with his game, and it's showing in his attitude too."