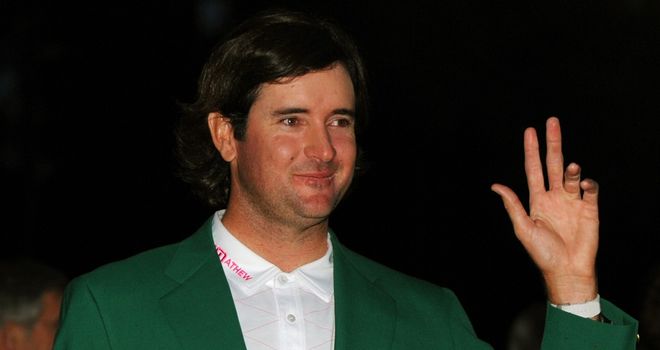 Bubba Watson: Floridian became latest left-hander to tame the Augusta National
Bubba Watson credited recent fatherhood for his composed performance during the Masters play-off with Louis Oosthuizen.
Watson clinched his maiden major title at the second extra hole, the 10th, when his hooked recovery from deep in the trees set up a par four, enough to see off Oosthuizen's challenge as the South African needed three to get down from just short of the green.
The American and his wife Angie adopted a month-old boy named Caleb a fortnight ago, giving the 33-year-old a new perspective on golf.
"I wanted to come in later (to Augusta) just because of my son, I wanted to spend more time with him," Watson told Sky Sports News HD after slipping on the green jacket.
"Only had him a week and I had to leave. I think it calmed me down, made me realise there are more important things in life than hitting a white golf ball round 18 holes.
"It's all a blur. All I remember is putting on the green jacket and shaking some hands."
Bubba Watson Quotes of the week
"It calmed me down and made me focus on the right things."
Blur
Watson, who lost to Martin Kaymer in a play-off at the 2010 US PGA Championship, admitted his victory had yet to sink in.
"It feels weird," he said. "I was down all day and coming down the last few I birdied some holes. It's all a blur. All I remember is putting on the green jacket and shaking some hands.
"It is an honour, a privilege, a blessed moment in my life to put the green jacket on.
"It's what a lot of kids dream about. To actually do it is different, it's not a dream any more, it's real life, it's a whirlwind right now."
Watson explained the thought process that went into his approach shot at the 10th.
"I had a 160-something yards to the hole," he added. "Pulled out a gap wedge - 52 degrees - and just hooked it as much as I could.
"I couldn't see the ball until I got out to the fairway, I just heard the crowd roar. I finally asked my caddie: 'where's mine at? Is that me close?' He said 'yeah it is' and I said 'wow'.
"It was just a weird feeling after I hit the shot. Hitting the shot you are so focused on it, and then when you see where it ended up you're like: 'woah, I have a chance to win this thing'."