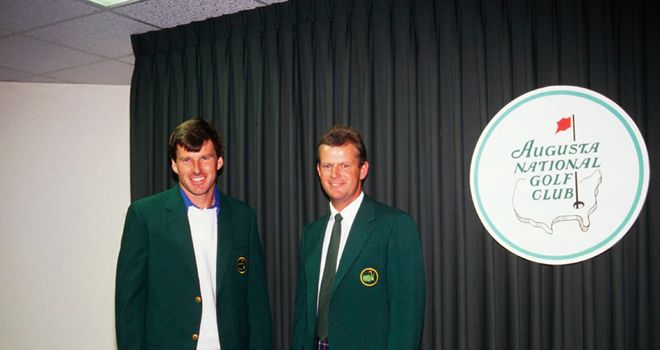 Nick Faldo in 1989 with previous year's winner Sandy Lyle.
The 1980s was dominated by one continent and one giant of the game; it was the decade Europe won five Green Jackets and Jack Nicklaus brilliantly, magnificently, astonishingly won a sixth.
80's Moments
1980 John Lennon assassinated
1981 Brixton Riots
1982 Falklands War
1983 Virtual Reality conceived
1984 Miners' Strike
1985 Mikhail Gorbachev calls for Glasnost
1986 Space Shuttle explodes
1987 Thatcher wins third election
1988 Pan-Am flight bombed over Lockerbie
1989 Tiananmen Square massacre

It began in 1980 with Spain's Severiano Ballesteros blazing a trail for his continent. He took control with a first round 66 and never looked back, eventually winning by four strokes.
Three years later he repeated the trick - another four stroke victory in the first year Augusta permitted players to use their own caddies on the course.
1985 saw Germany join the European charge as Bernhard Langer defied the yips and the challenge of Ballesteros.
The decade also ended with European success. First came a thrilling victory for Scotland's Sandy Lyle whose approach shot to the final hole from a fairway bunker left him a ticklish putt for the win which he converted before dancing a jig of delight.
Twelve months later his English rival Nick Faldo watched as his play-off opponent Scott Hoch stood over a tiny putt for victory. Hoch (thereafter nicknamed 'Hoch the Choke') missed and Faldo took advantage, winning in the dark on the 11th green.
America was not without success in the 1980s: Tom Watson won his second Masters in 1981, Ben Crenshaw his first in 1984 and Craig Stadler his only one in 1982.
There was also a fairytale finish in 1987 when local boy Larry Mize holed an outrageous chip shot on the second extra hole to defeat Greg Norman.
The eighties also saw the introduction of bent grass greens (in 1981) and an extension of television coverage to the first and second rounds.
But one Masters tournament dominated the period: the remarkable 1986 event which thrilled the golf world like few ever have.
The 46-year-old Jack Nicklaus, driven by a pre-event article that wrote him off as a has-been and inspired by galleries that were going wild, covered the back nine on Sunday in just 30 shots.
Ballesteros was convinced he was on the verge of completing a third win, but he found water on the 15th hole and his challenge petered out.
Nicklaus completed a final round of 65, earned a record sixth Green Jacket and became the oldest champion in the tournament's history.
FOCUS ON - NICK FALDO
A young star of the British game in the late 1970s, Faldo spent the early 1980s underachieving. His response was calculating and all-consuming as he shut himself away for 12 months to rebuild his swing under the tutelage of David Leadbetter. He returned a new man and rubber-stamped his star quality when becoming only the second golfer to ever successfully defend the Green Jacket, when winning in 1989 and 1990. On both occasions he defeated gnarly American veterans in play-offs, Scott Hoch and Raymond Floyd. Six year later Faldo won a third title in extraordinary fashion. He went into the final round six shots adrift of his playing partner and the tournament leader Greg Norman but a combination of Faldo's final round 67 and Norman's cataclysmic collapse saw him win by five shots. His embrace of Norman on the final green showed a human side to Faldo few had previously seen.