The 12th hole at Augusta has produced its fair share of Masters heart-ache and glory - so it was the perfect choice when picking a Shot Centre challenge for our guests!
Step into the Sky Sports Golf studio to see how former F1 driver Johnny Herbert and former footballers Jamie Redknapp and Michael Ballack fared.
Danny Willett also popped in to show how it should be done and fellow pro Richie Ramsay gave us an insight into the importance of driving well at Augusta.
Peter Oosterhuis, who played in 11 Masters finishing third in 1973, also has some handy tips for those pitting their game around the dramatic contours of the course.
Check out our Shot Centre Special archive here...
Johnny be good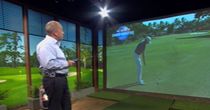 Former Formula 1 driver Johnny Herbert is used to spotting the best line on the race track but can he fire the ball arrow-straight at the flag on Augusta's punishing 12th hole? Johnny may be carrying a few injuries from his racing days but he can still strike a sweet eight iron...
Redknapp and Ballack
Footballers - especially retired ones - have plenty of time to hone their golf games, right? So surely former England midfielder Jamie Redknapp and former Germany captain Michael Ballack found tackling the 16th an absolute breeze? Check out how they got on here...
Willett work?
Danny Willett could well be playing the 12th at next year's Masters - but for now he was happy to take on our Shot Centre challenge. Watch Danny, who has made four major championship appearances, take on the pin with an eight iron and discuss just how difficult it is to take on the shot when the pressure is high on the final day.
Ramsay streetwise
Precision wins prizes around Augusta - but it helps to have power and distance too! Richie Ramsay picks up his driver and unleashes a couple of belters as he explains how to give yourself the perfect start at the first hole and set up a birdie, or even eagle, opportunity at the par-five 15th.
Masters Knowledge
Peter Oosterhuis joins Denis Pugh to explain why the par-three fourth hole was the hardest hole on the course in 2013 and highlight the importance of getting into good position for the uphill second shot at the par-four ninth. If you're still in good shape, beware the trees on Hole 14 and make sure you hit the right level on the green!
D-day for Davies
You can't afford to slip up on the par threes around Augusta - but that's easier said than done! Laura Davies guides us through the two short holes on the front nine, explaining the possible approaches to the different positions. One thing's for certain, though - you need your caddie to give you the correct club or you're in bogey territory...