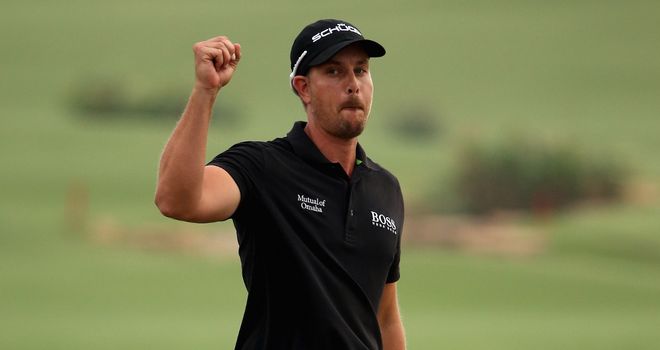 Henrik Stenson: Can he join the majors club at Augusta?
Within minutes of winning the DP World Tour Championship in November to add the Race to Dubai title to that of the FedEx Cup, Henrik Stenson was being asked what he could possibly do for an encore.
"I don't know how I am going to be able to top this next year, but I am going to give my best in the majors and that would be the icing on the cake," he said.
Five months later, the first of four slices of that cake is up for grabs in the US Masters and Stenson finds himself a 25/1 shot to win a maiden major title at Augusta.
At first glance those odds seem rather generous given his brilliant 2013 and that world number one Tiger Woods has been ruled out after back surgery, while two more players ahead of him in the market - Phil Mickelson and Jason Day - have also been struggling with injury.
But a closer look at Stenson's record in the Masters reveals the reason for such largesse, with the Swede failing to record a single top-10 finish in eight appearances.
Stenson has at least one top 10 in the other three major championships - he was second in the Open at Muirfield and third in the US PGA last year - but his best finish at Augusta is a share of 17th in both 2007 and 2008.
"The course should suit me, but it is the major where I have had the worst results," admitted Stenson, who was joint 18th last year. "I wouldn't rank myself as a favourite but it is a golf course where I really believe I can do well if I go there with a good game and a good head."
As far as the game is concerned, Stenson got off to a slow start with a missed cut and two top-30 finishes on the European Tour's 'Desert Swing' in January, but showed signs of getting back to top form with fifth place in the Arnold Palmer Invitational.
But when it comes to the head and the rest of the body, Stenson admits a packed schedule and the new demands on his time have not made it easy to concentrate on what he does best.
"I didn't get much of a rest at the end of last year and then you're trying to jump start in the early part of this year," added Stenson, who will celebrate his 38th birthday the weekend before the Masters gets under way.
"I was trying to get going but when the tank is a little bit empty it doesn't matter how much you want it, it's just not happening. Hopefully we're getting there.
"It's hard. I played the most tournaments in the last two seasons that I've ever done in my career on a worldwide schedule. That's something I'm kind of looking into but there's a lot of good tournaments on either side (of the Atlantic) and it's just hard to get the numbers down."
It is equally hard to envisage Stenson taking the same route as Woods and Masters champion Adam Scott and drastically reducing his schedule.
But if there is one thing that could persuade the popular Swede to do so, perhaps it is the boost that could give his chances of winning that maiden major title.
First Swedish male winner
"Of course it's a priority because we haven't had a male Swedish golfer winning a major championship yet," he added. "I'm very positive it will happen at some point.
"Hopefully I can be the one, but it will happen at some stage and for me it's going to be about good preparations. I did some good preparations last summer and I was up there at both the Open Championship and the US PGA. I took a lot of positives out of finishing second and third at two majors and still feeling like there was more to give.
"It's the last thing on my CV to add.
"I won some great tournaments around the world last year, and both the FedEx Cup and The Race to Dubai, I've played on Ryder Cup teams, I won the World Cup...yeah, I'm not going to bore you!
"But it's kind of the one thing missing so that's going to be my main focus. Then again, we know the stars need to be aligned for you. It's four tournaments out of a 40-tournament schedule so you need a bit of luck, too.
"If it was my day, maybe it would have been good enough to win the Open, but Phil had a fantastic finish and was a worthy champion in the end."
How Stenson will be hoping someone is expressing the same sentiments about him very soon.