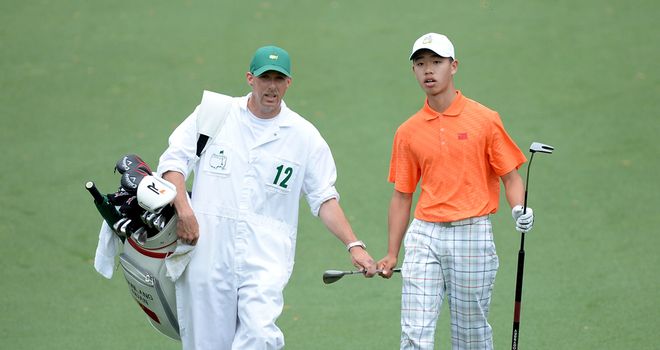 Liantang Guan: Made the cut despite penalty
Never has a Masters cut been watched with such scrutiny.
Usually it's a bit of an afterthought; just a way of eliminating all the old champs, most of the amateurs and those who were unlikely to win anyway.
But today it was a way of measuring whether justice would be served.
The intrigue surrounded a major controversy involving 14-year-old Chinese prodigy Tianlang Guan.
After his incredible one-over 73 in round one, I'd gone out to follow the start of his second round - along with a huge number of other pressmen at Augusta National.
And whilst watching him carefully put together three pars and pace around the fourth green I did make a mental note of how measured he was.
At the time, I couldn't help but be impressed by his composure. He wasn't letting anything rush him and it seemed an admirable sign of maturity.
However, after a pop outside a few hours later to watch a bit of the play at nine, I returned to the media centre to discover a newsbomb had gone off.
Guan had been fined a stroke for slow play - a very rare occurence - and as he was flirting with the cut line anyway this would put his hopes of making the weekend in even graver danger.
To pull off the astonishing feat of making a Masters cut aged 14, Guan would have to finish the day in the top 50 or within 10 shots of the lead.
With the course playing tough his four-over (but should have been three-over) score had a chance. What would kill him would be someone getting to seven-under.
Dustin Johnson hit that mark after a birdie on 13 and looked set to stretch clear further but he fell apart and shipped six shots on the final five holes.
One bullet dodged.
Tiger Woods was the next player set to be cast in the role of baddie as he moved ominously to five-under after just eight holes.
But Woods went flat on the back nine, bogeyed 17 after his third hit the flag and was flung into the water (were the golfing gods trying to help Guan?) and also three-putted the last to finish at minus three.
A second bullet dodged.
However, in the very last group on the course there was one final potential villain - Jason Day.
The Aussie, who finished joint runner-up in the 2011 Masters, was in full flow after the turn and birdies at 10, 13 and 16 took him to six-under.
One more birdie and he'd bring the axe down on Guan and all those at four-over.
At 17 he had a clear birdie chance but missed from 12 feet and when he drove into sand at 18 and settled for par, history had been made. Tianlang Guan was through to the weekend.
For many it meant the Masters men escaped a huge PR disaster. Fining a 14-year-old a shot for slow play and him missing the cut by one wouldn't have looked good at all.
On Twitter, many players came out in support of Guan and said he'd got a raw deal.
Graeme McDowell was particularly vocal, saying: "What message are we trying to send out to the world giving the 14 yr old kid a shot penalty today? It was a 6 hr round. Why single him out?"
But it wasn't all one-way traffic.
A Sky Sports poll showed less of a majority than might have been expected with 68% against the penalty but 32% believing it was fair.
And Lee Westwood made a very valid point after he'd posted his second round 71. "He probably learned to play slowly after watching us professional golfers on TV, so why should we be surprised?"
While Guan has belied his age in so many ways this week, perhaps this controversy was a reminder of his tender years.
Being put on the clock is a common occurrence but most wily pros will take the hint, speed up until the eyes are off them and then slip back into their previous sedate pace.
Guan however is far too young to pull off veteran smarts like that that and, unfortunately, it probably cost him.
Thankfully, the controversy was downgraded from 'almighty injustice' to 'second day talking point' after he made the cut and hopefully Guan won't be rushed out of his rhythm over the weekend.
Tracking Tiger
I have to be honest, the one player I want to win this week is Tiger.
It's not that he's my favourite golfer, it's more a sense of wanting to witness a bit of history - in short, Tiger's first major win for five years.
So, after scampering in from the morning rain earlier in the day, I decided to cash in on the afternoon sunshine by picking up Tiger at the ninth hole.
The first shot I saw him hit was rather ungainly as he hit his approach at nine and stumbled forward four or five steps due to the effort involved and the downhill terrain. I presume his ball had been in a divot.
The ninth green is set on a hill near the 18th so you get a great view of the players hitting from down in the ditch below.
Tiger had found the putting surface and walked off with a two-putt par.
The 10th hole is one of my favourite locations as it offers a splendid opportunity to see shot shapes. The requirement here, if you're a right-hander, is to hit a big raking draw around the corner and Tiger did just that with an effortless three-wood.
From the first cut, his approach just missed the green and his birdie putt pulled up short.
And that was the story of Tiger's back nine. He was just a little bit off and instead of kicking on he reversed back to three-under after playing it in 38.
He'll go into the weekend just three shots back but it's not the position of dominance he wanted.
Instead the final group on Saturday will be Jason Day and 53-year-old Fred Couples.
It's amazing how Freddie's name remains a fixture on the Masters leaderboard 21 years on from his victory here in 1992.
But more great play around his favourite track means he'll be in the final group on Saturday for the second year running while defending champ Bubba Watson will be in the very first group out. In fact, due to an odd number of players making the cut, he'll have to play with a marker which seems a bit of a comedown from 12 months ago.
On a normal day these are all good stories but, quite simply, nothing beats the remarkable and dramatic way a 14-year-old boy sealed his place in the final two rounds of The Masters.