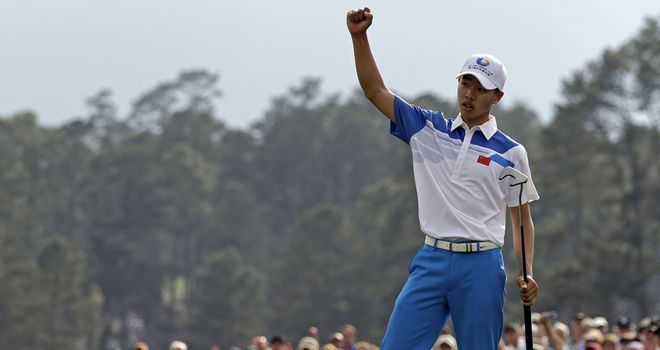 Tianlang Guan celebrates his birdie at 18
Day one at the 77th Masters had a bit of everything.
Cult Englishman David Lynn made the early headlines as he took the clubhouse lead with a debut 68. But the storylines moved so fast that, during the course of his 15-minute interview in the media building, Aussie Marc Leishman had kicked two shots clear.
Leishman, a former PGA Tour rookie of the year but still a novice in terms of this event, looked to have done enough to take day one honours after posting a 66 but that then came under threat from the afternoon wave.
Sergio Garcia, whose record in this tournament is curiously low-key, matched Leishman's 66 and monster-hitting Dustin Johnson, who reached the par five 13th with driver and a nine-iron, also hit six-under before dropping a shot late on to be one back.
As he always seems to at Augusta, Freddie Couples struck a blow for the veterans by also threatening the lead, eventually returning a 68, while in amongst all this there was a golden moment for Welshman Jamie Donaldson, who six holes into his Masters career made a hole-in-one.
But the story of the day was undoubtedly the incredible performance of 14-year-old Chinese boy Tianlang Guan, not surprisingly the youngest ever player to appear in the event.
You don't expect to use the word boy at The Masters unless it's in relation to the Par 3 Contest and a family member dressed up as a caddie but that's what Tianlang is. An eighth grader who does homework and has sandwiches made for him by his mum.
Going in to today Butch Harmon reckoned Tianlang would struggle to break 10-over 82 and that seemed a pretty fair assessment.
So it was simply astonishing to see Tianlang plot his way around the course and then hole from just off the green at 18 to post a one-over 73.
To give that some context it was two shots better than defending champion Bubba Watson and just one more than Rory McIlroy.
Joint-leader Leishman said he'd felt like "a deer in the headlights" when he'd missed the cut on his Masters debut in 2010 but Tianlang talked in his press conference about feeling "comfortable and relaxed". And, yes, he said those words in English. He's a smart cookie too.
There were signs of his age when, asked about his long-term goals, he naively dead-panned that "hopefully I can win the four majors in one year". Then again that seemed so ridiculous it probably threw us off the scent as if he'd said "to be the next Tiger Woods" it would have been easier to spin.
Possibly the best/worst question was put by an American journalist who said: "I have a daughter in eighth grade. Would you like to meet her?" Tianlang just laughed and moved on. The rest of us shuffled a bit uncomfortably, wondering if the scribe was trying to secure his financial future by hooking up his offspring with a future millionaire.
In reality, Tianlang still has it all to do to make the cut but even if he shoots in the 80s tomorrow his 73 is now in the history books. A simply incredible achievement.
Walking the course
I spent the morning following the early three-ball of Justin Rose, Brandt Snedeker and Ryo Ishikawa - the previous wonderkid from Asia who now seems ancient at age 21.
I did so in the company of Jeffrey DeVore, an American friend who runs a Fantasy golf league I take part in.
It's a One and Done format meaning each week you pick a player but can never use him again. You score whatever the player earns that week so the strategy is choosing the right player for the right tournament.
Many in the league have saved Tiger for this week but my pick is Justin Rose. Therefore it felt pretty good to be giving live fist-pumps to my Fantasy League manager as Rose started with a pair of short-range birdies.
Despite seeing most of the holes in the two practice days, I hadn't yet been down to Amen Corner until this afternoon. It was almost as if I was saving it like a Christmas present.
So what better way to view the most iconic section of the course than by following a three-ball featuring triple Masters champ Phil Mickelson.
Mickelson is a total legend here - his name appears to be called out more than any other - and he didn't let me down.
I picked him up on the 10th tee and watched him bend a huge banana cut around the corner. It seemed he'd overdone it but the ball had caught the left edge of the fairway.
He missed the putt and went close again to birdie at the tough par four 11th, the start of Amen Corner.
It's a spectacular sight when you walk down the steep hill at 11 as it offers a panoramic view of the 11th green, all of the 12th with Hogan's Bridge to the left and the tee at 13.
At 12, Mickelson wedged onto the green and made a 10 footer for birdie and he added another at the par five 13th after a long wait on the tee.
Those two gains took him from two-over to level par and he added more birdies at 15 and 16 before eventually posting a one-over 71. Not a bad day all told.
As for Tiger, he's officially "lurking".
That seems the ideal word to describe his position at two-under and history says it's a position from which he "pounces".
On the four occasions he's won the Green Jacket, Woods has opened with a 70 three times so he'll feel he's in an ideal spot to leap from tied 13th to the top of the leaderboard over the next three days.
Tiger was one of 33 players who broke par today and, without doubt, the lack of wind and soft greens meant Augusta National was there to be had.
Many players - Tiger, Luke Donald (71), defending champion Bubba Watson (75) - talked about the slowness of the greens which seems amazing given it's been drilled into us over the years how fast they are.
The Masters committee probably need to speed them up to sort the men from the boys and, thanks to Tianlang Guan, that phrase for once can be taken literally!