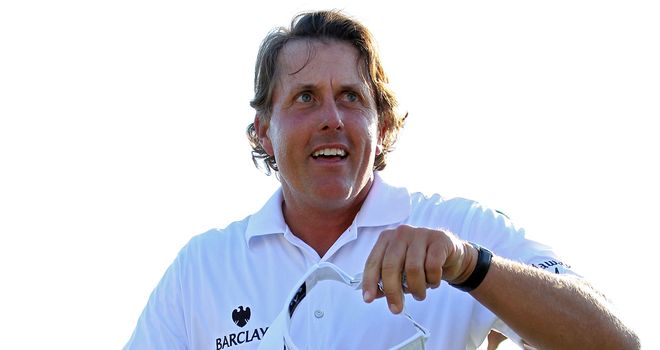 Phil Mickelson: A spectacular back nine display on Saturday
Peter Hanson and Phil Mickelson have history on their side. Big time.
Those who know their Masters stats may be aware that the winner usually comes from the final group on Sunday. But the numbers are actually quite incredible.
In all, 19 of the last 21 winners at Augusta headed out in the final pairing on Sunday so the engraver can pretty safely start carving the final three letters, "son", onto the 2012 trophy.
Then again, as someone pointed out to me on Twitter when I posted that stat, it's 0 years since the winner came from outside of the final pairing, Charl Schwartzel going off in the penultimate pair last time!
Saturday is known as 'moving day' in golf and that's exactly what Hanson and Mickelson did to obtain their prized Sunday slots.
Hanson shot the best round of the week, a superb 65, while Mickelson came home in a brilliant 30 to post a 66.
For Lee Westwood, though, it was 'non-moving day'. A level par 72 just wasn't good enough and he'll have to come from five back to end his search for a first major. At least he has some sort of chance. Rory McIlroy (77, +3) and Sergio Garcia (75, +1) vanished from the leaderboard on Saturday although their ironic man-hug on the 12th green after they both managed to birdie left the impression that their joint collapse helped ease the pain of both.
Tracking Tiger
The early part of my day was spent in the company of Tiger Woods.
I tweeted earlier this week that seeing him in the flesh makes me pull for him more than if I was just watching on TV. I guess it's because I can feel the buzz and, as with Mickelson yesterday, there's something very cool about seeing a legend of the game perform live on his favourite stage.
It was a mixed bag from Tiger on Saturday. On the plus side he hit some superb drives after fixing some of the swing faults that ruined him yesterday. But the putter was mostly cool and there just wasn't enough inspiration - a stark contrast to Phil who sent the crowds wild with some box office entertainment, including one flop shop on 15 that had even his fellow pros shaking their heads in amazement.
For the first four holes, a Tiger charge looked on. After saving par with a 10 footer on the first (luckily I was stood right behind it and saw his ball curl in), and a two-putt par five at the next, he came alive with back-to-back birdies. The first followed a fine drive and wedge while the second was courtesy of a majestic tee-shot at four which landed just two feet from the pin. Even though they'd moved the tee forward it was still a tough shot and Tiger made it look easy.
After a brisk walk (running isn't allowed here!) back to the media centre to report on those four holes I picked up Woods and Schwartzel again at the ninth.
For a second I was confused as I looked down from the raised green as the vast fairway below was empty. Then I noticed that Schwartzel was in the right rough while Tiger, presumably after a wicked pull, was stood in the adjacent first fairway!
Blocked out slightly by trees, Tiger tried to move his ball left to right onto the green but couldn't get any cut and finished by the left bunkers. A poor chip and two-putt meant a bogey.
Although I've seen plenty of tee-shots drawn around the corner from the 10th tee this week I haven't actually followed the hole down to the green so I decided to stay on Tiger's trail.
The 10th is where Rory McIlroy infamously snap-hooked his drive into the cabins down the left last year, the shot that started his implosion.
I presumed they were 150 to 200 yards down the fairway so when I set off through the tall pines I was absolutely amazed to see they were more like 70 yards from the tee. No wonder the commentators said at the time that they had never seen anyone in there before. Rory's ball may have hit a tree but, even so, their location was still a major shock.
On a hot, sunny day the walk down the left of the 10th and then the right of the 11th after cutting back up to see the tee-shots offers some respite from the rays as trees dominate this part of the course. The beauty really is breathtaking.
And when you emerge, there in front of you is the spectacular sight of the 11th green guarded by water and to the right the iconic Hogan bridge leading across to the 12th green. It really is one of those moments when you feel like you've walked through the TV. It's so real it somehow doesn't seem real.
After a toilet break (an attendant even points you to your station) I stopped to see Tiger hit his tee-shot into a ditch on 13 before I walked a little further and completed a touch-pad online Masters survey. Naturally I pressed "excellent" for the toilet facilities.
Rose wilts, Mickelson thrives
It had been quite a walk so when I saw the big scoreboard behind the second green saying that Justin Rose, my main pick this week, had moved to -3 with a hat-trick of birdies to get to just two of the pace it seriously perked me up.
Back in the media centre canteen, where Kirsty Gallacher and Chris Evans dropped in for a quick bite to eat, I refuelled further on some salmon and then saw Rose birdie 14 to get to -4.
For a fleeting moment he was tied third but, watching in the company of Sports Illustrated's Stephanie Wei, we saw his second to 15 drop from the skies onto the green, seemingly come to a halt but then trickle back into the water.
Rose never got over it, four-putted 16 and his hopes were more smoked than the salmon I'd just eaten.
But having said in yesterday's blog that Mickelson's poor 2011 showing had been just about the only blot on my first visit to the Masters last year, Phil served up some absolutely vintage stuff to leave Rose's demise a distant memory.
I've backed four players this week and with Rose joining Luke Donald and Robert Garrigus (who started the week with a triple bogey!) on the scrapheap, Mickelson was my only hope.
As it turned out, he may be all I need.
Phil especially loves it here in even years and won the Green Jacket in 2004, 2006 and 2010. And with his putter still red-hot he's now a warm favourite to claim a fourth Masters win in 2012.
At the start of the week the press folk saw a Woods v McIlroy final round showdown as the dream ticket.
That hope has gone but another win for golden-boy Mickelson would more than make up for it.