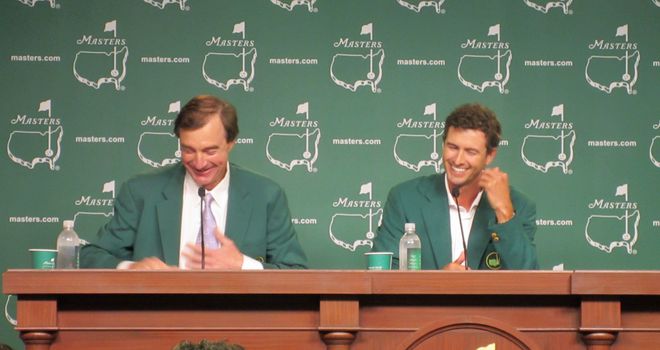 Adam Scott is all smiles in his press conference
What a sensational finish!
For a little while on Sunday afternoon the uninvited rain at Augusta National seemed to be putting a dampener on the 77th Masters.
Instead of back nine roars, there was only muted applause for pars. And when the noise level did rise it was groans sparked by balls crashing into Rae's Creek.
But slowly the tide turned.
First it was Jason Day who cranked the excitement levels up as he burst into the lead with a hat-trick of birdies at 13, 14 and 15.
But it's when the tournament reached the final hole of regulation play that this suddenly turned into one of the great Masters finishes.
While Day's bogeys at 16 and 17 and Marc Leishman's watery six at 15 left the Aussie journalists in the media centre fearing the worst, they had back-up in the form of Adam Scott.
Scott had famously blown victory in the previous summer's Open Championship at Royal Lytham by bogeying each of the last four holes but this time he seized the day.
Level with Angel Cabrera on eight-under, Scott fired his second onto the 18th green and then raised the roof with a 25 foot birdie putt which caught the edge of the hole and dropped. "Come on Aussie," he roared, displaying a previously unseen level of emotion. It recalled the moment in 2004 when Phil Mickelson - also at the time carrying the best-player-not-to-have-won-a-major tag - holed a similar length putt that wriggled in the side door.
There was a big difference though. Mickelson's putt was to win; Scott's was to give himself a one-shot lead and put huge pressure on Cabrera who was back in the fairway.
Cabrera, playing for most of the day with the confidence of a man who already had a Green Jacket, had looked the most likely winner before faltering but he'd renewed his challenge with a birdie on 16.
Could he birdie 18, force a play-off and prolong Australia's agony in their quest for a first Masters winner?
You sensed he might as soon as he hit the shot. I don't speak Spanish - Cabrera's native tongue - but whatever he shouted sounded as if he loved what he'd just done. A few seconds later no translation was needed. The big Argentine had hit a glorious iron to just three feet away.
Scott was watching all this in the scorer's hut so his stomach must have turned over when Cabrera pulled a rabbit from the hat.
Sure enough, Cabrera knocked it in and we were going to extra-time.
Play-off
The Masters is decided by a sudden death play-off so blink first and you're gone.
The two gunslingers returned to the 18th tee and, showing nerves of steel, pounded big drives down the fairway. However both came up short with their seconds to make it a battle of short games.
Cabrera went first and for a second it looked as if he'd chipped in. "My heart was about to stop," said Scott later but to his relief the ball drifted by on the right.
Scott's chip wasn't as good but, crucially, he left it below the cup and he calmly knocked in the putt to send the play-off to a second hole.
By this stage the light was going and we were looking at the dreaded scenario of a Monday return. Believe me, no-one wants that and my thoughts briefly turned to the lucky journos whose names had come out in the ballot today.
They had been given the chance to play Augusta National tomorrow morning (they even get an official invite) but presumably a Masters play-off takes precedence over their once-in-a-lifetime opportunity so they'd have been left re-arranging flights probably at quite a cost.
So could either man finish it at the 10th - just as Bubba Watson had done with his incredible hooked wedge 12 months ago?
Scott slung a drive around the corner (the tee-shot at 10 requires a big draw) and then Cabrera somehow did the same with an iron - a truly brilliant shot which showed a bit of old-school magic.
Two quality shots to the green followed although Scott was nearer - maybe 15 feet compared to Cabrera's 25.
Cabrera putted first and for all the world it looked as if he'd holed it but, yet again, somehow it stayed above ground.
And so Scott was now in a position he'd never been in before. He had a putt to win The Masters. Unlike his previous big moment at 18, this one would slam the door and end Australia's Augusta hoodoo.
"I could hardly see the green in the darkness," Scott recalled later, "so I gave (caddy) Steve (Williams) the call. He was my eyes on that putt."
Williams, who had been on the bag of Tiger Woods for 13 of the world number one's 14 majors, told Scott that the putt would break more than he thought, "at least two cups".
The Kiwi was spot on.
Scott pulled back his broom-handle putter, struck the ball sweetly and the putt dropped!
An Australian journalist, Ben Everill, had told me earlier that the Masters was his country's "last sporting Everest".
Thanks to Adam Scott, they've finally conquered it.
Sunday snippets
* I spent the morning following Phil Mickelson. The left-hander was totally out of contention but is always worth a watch. And during a pleasant hour or so I think I experienced my most Augustery moment ever. I was stood next to Amy Mickelson at Amen Corner with some pine straw in my hand whilst watching Phil make a birdie at 12.
* The what-might-have-been Tiger scenario did actually happen. If his chip at 15 on Saturday hadn't hit the flag and he'd birdied he would have had a four on his card instead of what became an eight after the two-shot penalty. Tiger finished at five-under. Take off those four shots and he'd have made a play-off. What if, what if....
* Tianlang Guan, the 14-year-old from China, has provided me with plenty of memories at this Masters. And it continued today. I was watching Mickelson at 15 when the patrons along the adjacent 17th fairway suddenly went into a scurrying flap. Moments later they had become a chuckling huddle and in the middle of them was a man holding aloft a plastic bag of goodies from the Masters shop with Guan's ball inside it. The man milked the moment for a minute or two before a smiling Guan appeared next to him and fished it out.
* It's far from a given that major winners are applauded into the room when they come through the door for their official winner's press conference. But if they're a nice guy and there's a sense that they deserved one, the journos do get a clap going. So no surprises that Scott got an excellent ovation and a hearty round of applause when he came in to meet us.
* Slightly bizarrely, Craig Heatley, the Green Jacketed press official who conducted the Adam Scott press conference (see picture above) was more emotional than the winner himself. "I can't even describe the pleasure that it gives me to welcome and congratulate you, Adam," he said, his voice wobbling with emotion. Bizarre because Heatley is actually from New Zealand.