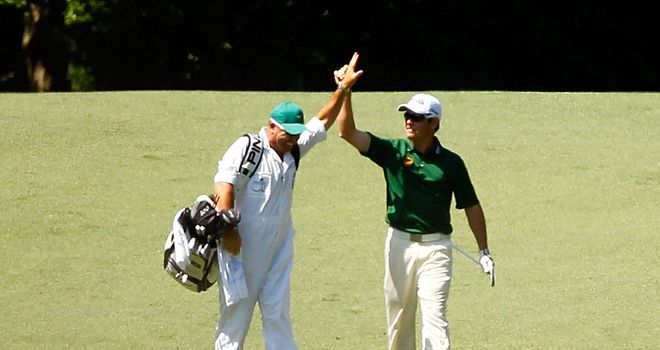 Louis Oosthuizen celebrates his amazing albatross
As it so often does, a piece of magic made the difference in the final round at Augusta.
For most of Sunday, it looked as if it had been provided by Louis Oosthuizen after he became the first player in Masters history to make an albatross at the par five second hole.
But, ultimately, the decisive piece of wizardry came from the wand of Bubba Watson.
Down in the right-hand trees at 10 after a poor drive at the second play-off hole, Bubba hooked his second shot 40 yards through the air and saw it settle 12 feet from the pin.
And with Oosthuizen unable to par, Bubba took the two putts he needed to win his first major title.
Once more the guy with magic in his wrists had beaten the methodical tee-to-greener. Think Mickelson defeating Lee Westwood with the shot through the trees in 2010 and the mercurial Angel Cabrera seeing off Kenny Perry the year before.
As this was the final round at Augusta, I wanted to take in as much as I could before watching the finish in the media centre.
So starting with Ian Poulter and his yellow shoes at the first hole, off I set.
Walking from the first green, I saw Miguel Angel Jimenez slam his driver into his bag after a poor drive from the tee-box at nine before Japanese amateur Hideki Matsuyama hit a beautiful straight drive down the middle.
Then, rather than walk down to the second green where Oosthuizen would soon make history, I decided to head to the high point near the fifth green where you can look 100 feet below and see the 16th green (this has been one of my favourite discoveries this week).
On the way I decided to sit in the grandstand near the fourth green and just before I made it there I got a close-up view of Sean O'Hair and Fredrik Jacobson chipping over the bunker and onto the green after pulling their tee-shots left. Later Phil Mickelson would play his third from here and flop it straight into the sand.
Up in the grandstand it was one of those idyllic Augusta moments. The sun was beating down, the birds were tweeting and I was soaking it all in. But then Ben Crane turned up.
He looked splendid in his final day Masters colours - green trousers and cap, with yellow shirt and shoes - but he absolutely confirmed his reputation as the slowest player in golf. Seriously, while he dithered over his bunker shot, the serenity all around almost caused me to nod off.
After he finally holed out and I was allowed down from the stand I made my walk to the high-point of five and looked at the amazing scene below.
Incredible roar
Shortly after descending the stone steps to the left of the water on 16 that you never see on TV, I was stopped in my tracks by the most incredible golf roar I've ever heard.
It was absolute hairs on the back of the neck stuff and, bizarrely, my immediate reaction was that somehow it was for something even more special than a hole-in-one.
As Tiger was just coming into view on 15 I knew it wasn't for him as it sounded as if it came from a couple of fairways away.
Then I looked up at the scoreboard and did a double take after seeing that Oosthuizen's score had changed from 7 to 10. The three-shot leap meant only one thing. An albatross. Suddenly the roar made sense.
Of course, in America they say "double eagle" (even though that seems to suggest 2 x eagle and the impossibility of a hole in one on a par five). So as I walked around the back of the 16th green all I could hear was "double eagle", "double eagle", "double eagle" as the patrons discussed Oosthuizen's amazing two.
As I cut back over several fairways I just managed to sneak across the third before the marshals closed the ropes. And, when I looked at the golfer closing in on me it was none other than Louis Oosthuizen himself.
Remarkably he was showing absolutely no emotion; quite amazing for a man who had just hit the shot of his life to take the lead in The Masters. In fact, you'd have been forgiven for thinking he'd just made bogey.
Oosthuizen's calm demeanour and slow heartbeat is obviously a major attribute and it's why he came so close to adding to the Claret Jug he won at St Andrews in 2010.
The final shot I witnessed out there turned out to be hugely significant. Earlier this week I'd seen Mickelson cut a wonderful tee-shot into the fourth green and tap-in for birdie but, standing right behind the tee, I saw him carve it horribly left.
When I walked back into the media centre, I saw him messing about hitting a shot back-handed and racking up a triple bogey six. It was a blow from which he would never recover.
And so it meant that another left-handed magician was handed the Green Jacket by 2011 champion Charl Schwartzel.
After all the technical guff we hear about Tiger's swing, Bubba is a breath of fresh air.
Never had a lesson in his life. Never will. Asked to explain his golf style after being brought into the media centre in his new Green Jacket, he said simply. "I play Bubba golf (let's forgiven him the third person speak). I want to hit the incredible shot."
It's a philosophy we'd all like to adopt. For most of us it won't happen but, hey, you can but dream.
So that's it from another memorable Masters.
It'll seem strange in a couple of days' time, driving home out of the Sky offices in Leeds.
Turning onto Wellington Street, driving along the A65 through Horsforth and forking left near Morrisons doesn't quite have the same ring to it as driving past Eisenhower, Azalea, Magnolia Drive and turning left along Berckmans Road.
Anyway, time to return to the hotel, reflect on why I didn't back Bubba at 50s and somehow find a way of packing the vast array of Masters souvenirs I've collected into my suitcase.
Bye y'all.