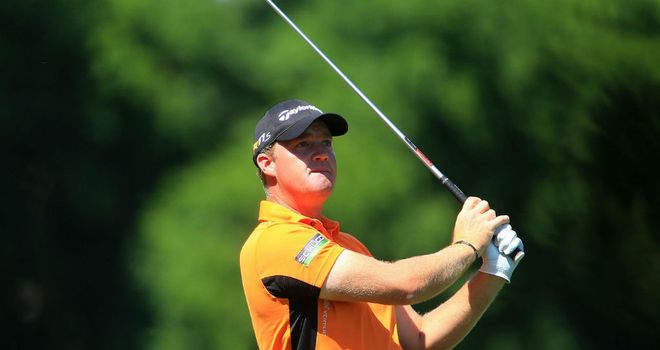 Peter Hanson: The man to catch on the final day at Augusta
And then there were two ...
History tells us that since 1991 only two winners didn't play in the final group. One of the exceptions was last year when Charl Schwartzel won and he was tied second.
Which means ... that only Peter Hanson (currently first) or Phil Mickelson (currently alone in second) can win.
Is it really that simple, though?
It's an incredibly strong pattern and highlights the difficulty of chasing a lead at Augusta National.
Tough job
Imagine hitting the brutal stretch between the 9th and 12th, knowing that you couldn't afford to drop a shot (and might need to make one). That makes a very tough job a lot tougher.
The last day pins are smart - a good shot feeds close to the pin, a wayward one leaves a potential three-putt and, magically, if you start pushing, those slopes become your enemy instead of your friend.
The pressure rises, the challenge wilts.
Chasers have occasionally won though. Zach Johnson in 2007 was T4th, but no-one since 1960 has won from outside the top ten with 18 holes to play.
The main contenders
Here's a few thoughts about the main contenders, starting with the top two.
Leader Peter Hanson (-9) has more birdies than anyone in the field this week (with 18) and is second only to Mickelson for putting.
Can he win? His previous best in a major is seventh at last year's US Open but major experience is over-rated. Remember this - 11 of the last 12 major champions were first time winners of the big ones.
Second placed Mickelson (-8) is the obvious favourite. He loves the course, knows the vagaries of the final day conditions and thrives on the attention.
He's also quite capable of playing an absolute shocker, that's the thrill of Phil!
But he looks primed. He played the first 29 holes this week in two-over-par. He responded by playing the next 25 holes in 10-under, with not one bogey.
Their final pairing is a repeat of the singles match in the 2010 Ryder Cup which Mickelson won 4 & 2.
And if the trend is bucked? Oosthuizen's remarkable 2010 Open Championship win (and form since) is often overlooked. But if his good friend Charl Schwartzel helps him into a green jacket (good motivation in itself!) the little man will become a big name in golf.
And Bubba Watson's chances cannot be neglected either. His ability to create shots fits the Augusta challenge and he has inspiration of his own - a devout Christian the importance of Easter Sunday and the recent adoption of a baby boy will be powerful stimulants for him.
The scene is set, history beckons.