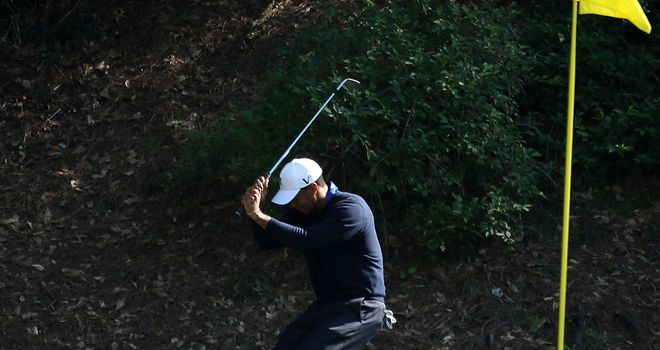 Tiger Woods will need to make his move sooner rather than later
We all know what Saturday at a major is - it's Moving Day.
And The Masters is traditionally the major which demands that the genuine contenders are at the top of the leaderboard with 18 holes to play.
Year after year after year one thing remains consistent at Augusta National - the winner tends to be in the top two after 54 holes.
In fact in the last 20 years only Zach Johnson wasn't first, second or tied for one of those positions with one round to play.
The move
The "move" is simple then - if your favourite player hasn't made it to the top two by the end of tonight, they've got an uphill battle on Sunday.
That said, there is another consistent Augusta trend and it says this - only two of the last 17 winners weren't in the top five at halfway.
If that pattern continues this year we've already got a short shortlist! It means only those at four- or five-under have got a hope of winning.
These stats lack romance. We want to see dramatic charges and thrilling low rounds.
But there is a reason why those charges tend to fizzle out.
Augusta National is a course that rewards brilliant attacking play, but we see it every year - if a player chases too hard, if he pushes for the big shot, he spins out of control.
It's a very, very difficult course to chase on.
Trends can be broken though and with a packed (and very high quality) field this week could easily be an exception.
Here's two final facts records that will be very tough to beat though.
The worst position of any Masters champion going into the weekend was T25 (Bernhard Langer in 1985).
And do you think we'll see a Tiger charge? He's eight shots back and if he wins that will tie the biggest deficit overcome after 36 holes.
So his task, like most of the chasers, is a very, very tough one.