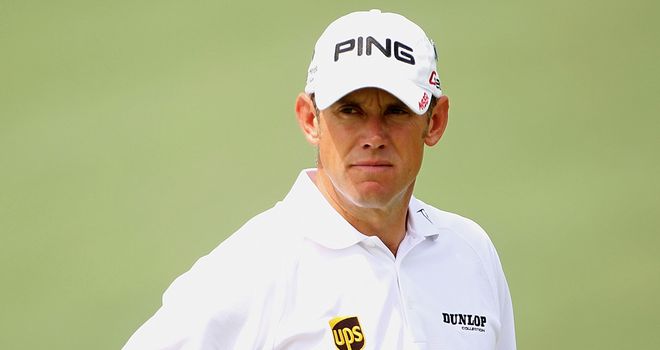 Lee Westwood: Dream start
Well, we did get a bunch of major winners on page one of the leaderboard on the opening day of the 76th Masters.
But just not the ones we were expecting.
While Rory (71), Tiger (72) and Phil (74) didn't really get the starts they wanted, some of the less heralded former major winners had a day to remember.
Louis Oosthuizen, the 2010 Open winner at St Andrews, defied his previous record of three missed cuts at Augusta to open with a four-under 68 to sit second; 1999 Open winner Paul Lawrie continued his resurgence to tie for fourth with a 69; and further down after 70s were former Masters winners Zach Johnson and Vijay Singh and 2003 US Open champion Jim Furyk.
But, for two very different reasons, the biggest stir was caused by the two men here with the unwanted reputation of being the best players yet to have won a major.
World number three Lee Westwood made the ideal start in his bid to shed that tag by shooting a superb 67 to lead on five-under but world number one Luke Donald, at one point, looked as if he might be disqualified for a scorecard error.
Bizarrely, given all the on-the-ball scribes here, it was me who first noticed the problem.
Several contributors to the live blog I'm doing said Donald was being shown as finishing as +1 on some websites but +3 on others.
I went down to the scoring guys at the front of the media centre and asked if there a discrepancy and they confirmed that there was an anomaly with his card. I asked if we could be looking at a DQ and they told me that the matter was being discussed.
Strangely, no-one else in the media gallery was aware of what could have been a huge story - the world number one being disqualified.
As the story spread, twitter was abuzz until it emerged that it was all a storm in a tea cup.
Luke's wife Diane tweeted the news that Luke was okay and soon after it emerged that an admin error (caused by a smudged 5 looking like a 3 according to some reports) meant an incorrect score for the fifth hole had been entered. Luke had correctly signed for a 75 and all was okay.
Nevertheless, it was still a bad day for the Englishman and he already has eight shots to make up on his compatriot Westwood.
This morning I ended up following the other fancied Englishman this week, Justin Rose.
The weather was glorious and the scenery perfect but I came in a little frustrated as the four-time PGA Tour winner missed birdie putts from inside 10 feet on the first three holes. In fact he made only one birdie all day although a single bogey meant he carded a decent 72.
Weather behaved
The very welcome news today was that the weather behaved. I guess a 40% chance of there being rain/storms can also be read as a 60% chance there won't be. And that's how it proved as despite some looming clouds the first round was completed on schedule.
Day one of a major is usually about jockeying for position and not shooting yourself out of it.
Donald, on 75, is just about still in the game but beneath him there is a mountain to climb for the likes of last year's runner-up Jason Day and Brits Paul Casey and Martin Laird (the trio all carded 76s).
Tiger
I don't always pull for Tiger when watching on TV but, somehow, here at Augusta I feel more inclined to cheer him on. I guess it's the feeling of being where Tiger made history and the privilege of being live at the course to see if he can repeat it.
Although he hit some wild drives today, the one I saw was a beauty.
When you stand behind the 10th tee you really have the chance to see how far the players must draw the ball to get it going in the right direction down the fairway. Tiger pulled 3-wood and hit an absolute peach of a right-to left shot, his ball arcing beautifully around the corner and setting up a birdie.
If I had to make a prediction right now I'd say that Woods and McIlroy are still very much on target to finish in the top five.
Westwood will be hard to keep out of there too and clearly having a laugh with Ant and Dec in the Par 3 Contest appears to have had a positive effect!
After so many near misses he would be a deserved winner and an early tee-time on Friday gives him the chance to build a lead.
It should be another fascinating day.