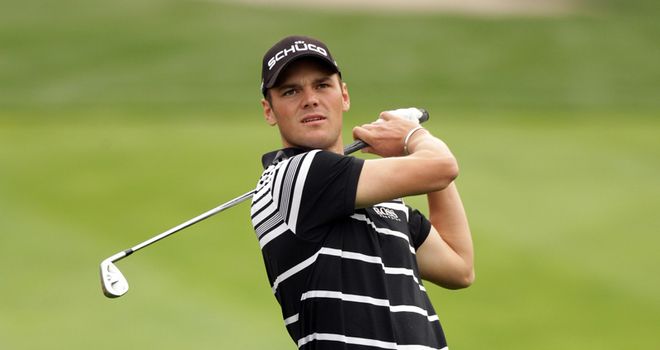 Martin Kaymer: Yet to make the cut at Augusta.
He's known as one of the most unflappable players in golf but it's fair to say that Augusta National has got inside Kaymer's head.
Fact Box
Kaymer once shot a 59 on the Satellite EPD Tour before joining the Challenge Tour in 2006.
A go-karting accident ruled him out for two months in 2009 and wrecked his chances of winning the inaugural Race To Dubai.
Kaymer donned a German shirt in the final round of the 2010 BMW International Open which was played on the same day Germany thrashed England 4-1 in the World Cup.
A missed cut on debut was nothing to get too concerned about but the first eyebrows were raised when he bombed out at halfway again in 2009.
When he failed to make the cut for the third year running in 2010, a baffled Kaymer even attempted to change his shot-shape to a draw to try and make his game more suited for success at Augusta National.
The result? A fourth straight missed cut and a 36-hole total of 150, his worst yet!
There definitely seems an element of Kaymer trying too hard and it's hard to imagine that he won't one day overcome his Augusta demons.
Aside from the first major of the year, the German's career has been one of unbridled success.
The 27-year-old has already racked up 10 European Tour wins and, in 2010, made the leap to major champion after taking victory in the USPGA at Whistling Straits.
That success helped him become world number one in early 2011, a position he relinquished after his fourth missed cut at Augusta.
Kaymer again showed his brilliance by winning the WGC-HSBC Champions event in Shanghai last November but can he now find a way to succeed at Augusta National and solve the one puzzle that continues to baffle him?