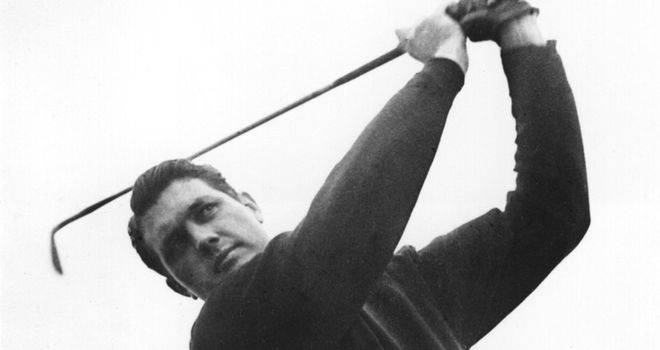 The 1940s were disrupted by the participation of America in the Second World War but, either side of the conflict, the prestige of Augusta National and the Masters tournament continued to grow.
40's Moments
1940 Battle of Britain
1941 America joins war
1942 Battle of Stalingrad
1943 Dambusters raid
1944 D-Day invasion of Europe
1945 Germany surrenders
1946 Churchill's Iron Curtain speech
1947 Mobile phone invented
1948 NHS created
1949 George Orwell publishes 1984

The decade began with Lloyd Mangrum hitting a course record 64, but it was insufficient for him to stop Jimmy Demaret from completing a dominant four stroke victory.
In 1941 Craig Wood, who had lost all four of the majors in extra holes and was believed to be jinxed, finally claimed one at Augusta (and added the US Open the same year).
Twelve months later Byron Nelson defeated Ben Hogan in a play-off, the first year that crowd control had been required as the galleries packed the fairways in search of the stars.
1943-45 saw no golfing action and when play resumed in 1946 there was a first photographers tower, on the 18th hole, to capture the winner Herman Keiser, who had spent the war fighting with the US Navy.
In 1947 the golfers were welcomed by a new sight, one that would become special for every subsequent competitor in the event - Magnolia Lane was paved.
On the course Jimmy Demaret became the first player to break par in all four rounds as he completed a second Masters victory.
Little known to golf fans today, Demaret was the Ian Poulter of his day - recognized as much for his colourful attire as his golf.
But, like Poulter, Demaret could also play and he would win a third title in 1950.
1948 saw General Dwight D Eisenhower become a club member. He would become an integral part of Augusta lore, even having a tree named after him on the 17th fairway.
The clear winner that year, by no less than five shots, was Claude Harmon, father of Butch, the famous coach and now commentator.
The decade ended in style. Not only was it the first year that a Green Jacket was awarded to the winner, but the recipient was one of the greats - Sam Snead.
FOCUS ON - SAM SNEAD
Famed for having a "perfect swing" and espousing hokey wisdom, Slammin' Sam won three Green Jackets - including the very first one awarded - and played in 44 consecutive Masters. He nearly won the 1939 Masters but had to wait 10 years before he finally achieved his aim. He added a second title in 1952 when coping with high winds better than the field and in 1954 he defeated his close rival Ben Hogan in an 18-hole play-off. It was to be the last of his seven major wins, although he came mighty close to an eighth in 1957 only for Doug Ford to pip him by holing out from a plugged lie in a bunker on the final hole at Augusta. He played his last Masters in 1981 but from 1984 to 2002 he hit the honorary starting tee shot alongside first Gene Sarazen and then Byron Nelson.