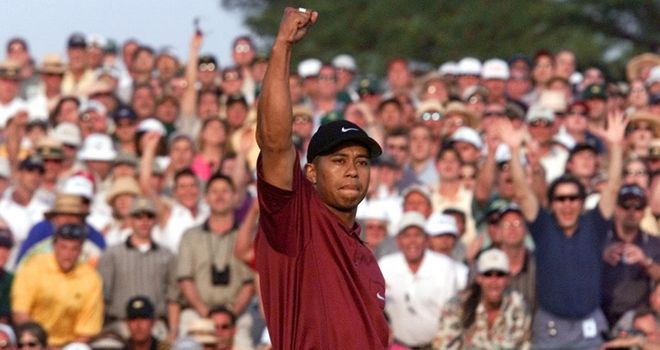 Tiger Woods realised his dream of putting all four major trophies on his mantlepiece at the same time as a final round 68 gave him a second Green Jacket.
2001 in sport
Lance Armstrong wins his third straight Tour de France.
The Williams sisters meet in a Grand Slam Final for the first time.
Michael Jordan makes his third and final comeback into the NBA.
Already the holder of the US Open, Open and PGA Championships after capturing the final three majors of 2000, Woods completed what was to become known as the 'Tiger Slam'.
This epic march into history had taken him 16 rounds, 291 holes and 1,083 shots and yet Woods could speak only of an "eerie calmness" after his mission was complete.
"I have succeeded in what I wanted to accomplish and it feels great, but I don't feel ecstatic yet because it has not sunk in," he told the press soon afterwards. "I was so zoned out I forgot what the whole thing was about."
The true Grand Slam is still considered to be winning all four majors in the same calendar year but those arguments were for later as Woods posted an opening 70 in his bid to become the first player ever to hold all four majors at the same time.
That left him five back from the fast-starting Chris DiMarco (65) but an ominous second round 66 cut his fellow American's lead at halfway to just two shots.
By the end of day three Woods had the lead. While a controlled 68 took him to 12-under, the rest of his rivals took it in turns to shoot themselves in the foot. Angel Cabrera led Woods by three until a double bogey at 15 while Phil Mickelson doubled 14 although ended the day in second place, just a shot back.
David Duval threatened to ruin Tiger's date with destiny when producing an incredible birdie blitz early in the final round.
Remarkably, Duval birdied seven of the opening 10 holes but a bogey on 16 and a missed six footer on the final green were mistakes he couldn't afford.
Mickelson, like Duval seeking a first major title, battled gamely too but his closing 70 wasn't enough either.
And so with a closing four-under 68, which he described as "plodding", Tiger re-wrote history. When he sealed victory with an 18 footer at the last - he had three for it - Woods had achieved a feat that few expected to see in their lifetimes.
WINNING WAYS
For the fourth time in his first five Masters, Woods topped the Driving Distance stats. Interestingly, he's only made the top 10 in that category twice in the last eight years showing his reputation as a big hitter has diminished. Woods also ranked first for Greens In Regulation in 2001 and hit it straighter off the tee (he hit 71.4% of his fairways) than he's managed in any subsequent Masters. Perhaps the sheer enormity of completing the 'Tiger Slam' got to him as he didn't manage a single top 10 in the three remaining majors of 2001.