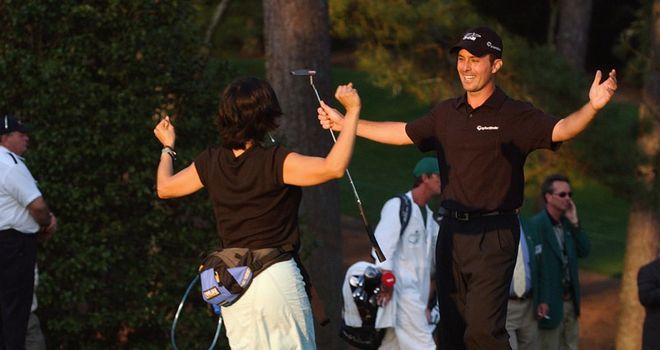 No left-hander had won a major since Bob Charles at the 1963 Open and it was widely believed that Phil Mickelson would be the man to end the southpaws' drought.
2003 in sport
Pete Sampras retires while Roger Federer wins his first Grand Slam.
Michael Schumacher becomes F1's most successful driver with a sixth title.
England defeat Australia to win the Rugby Union World Cup.
But Mike Weir beat him to the punch in 2003 when a flawless display of putting saw him edge out Len Mattiace in a play-off.
Not only was it a first major win for Weir; it was also the first by a Canadian and the 32-year-from Ontario instantly became a national hero after seeing off the world's best golfers.
The action didn't begin until Friday after Thursday's play was washed out. With a two-tee start in operation to make up the lost time, it was Northern Ireland's Darren Clarke who dominated the opening round as he posted a six-under 66 to lead by three from Sergio Garcia and US Amateur champion Ricky Barnes.
Weir was nicely placed in fourth at two-under 70 but Tiger Woods' attempt to win the Green Jacket for a third straight year hit the rails as he slumped to a four-over 76 to finish 10 back.
Round two was started on Friday and finished on Saturday and by the end of it Weir had roared into a four-shot lead. With scoring difficult, only three players reached the halfway mark under par - Weir at -6, Clarke at -2 and Barnes and Phil Mickelson at -1.
Tiger finally appeared on the leaderboard in round three as a joint best-of-the-day 66 elevated him to tied fifth place. It put him just two behind Weir but the Canadian was now only in second place after a difficult three-over 75.
The new leader was American Jeff Maggert, who had matched Tiger's 66 to leap two clear at the top on five-under par.
Seven-under would prove the number on Sunday and two players reached it. The first was Weir who found his rhythm again with an excellent four-under 68 while the second was unheralded Len Mattiace who made a startling move having started the day at even par.
Mattiace, playing in one of the earlier groups, had a two-shot lead when he stood on the 18th tee but pushed his drive into the trees and made bogey. Weir pulled level with a birdie on 15 and parred from five feet at the last to force the first Masters play-off since 1990.
The two players returned to the 10th and it was Mattiace who blinked first, pulling his approach well left of the green and still failing to find the hole with his next three shots.
Weir had two putts to win the title and he needed just one.
WINNING WAYS
What Weir lacked in terms of raw power he more than made up with short game brilliance. Time and time again his putter saved him and he ranked fourth in both Putts Per Round (averaging just 26.00) and Putting Average while he also placed second in the Scrambling stats. The excellence of his short game also allowed him thrive on the Par 5s. He played them in -10 (no-one performed better) and that was a key element of his rather surprising victory.