NHL: Nicklas Backstrom nets shootout winner for Washington Capitals
Last Updated: 08/11/13 6:51am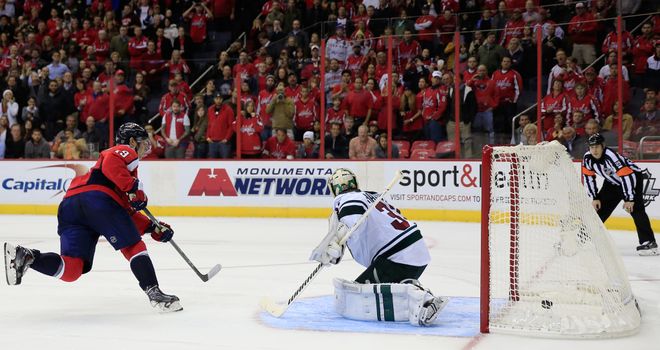 Nicklas Backstrom scores the winner for the Washington Capitals
The Washington Capitals kept on rolling with a fourth straight win although they had to come from behind to edge out the Minnesota Wild 3-2 in a shootout.
Nicklas Backstrom scored the only goal in the shootout after Marcus Johansen had tied the game in the third period for Washington.
The Tampa Bay Lightning stayed hot with a 4-2 win over the Edmonton Oilers their sixth in the last seven games. Steven Stamkos had two goals, taking him to 13 for the season.
At the opposite end of the scale, the Florida Panthers have now lost seven in a row, leaving them winless this season, after going down 4-1 to the Boston Bruins, who had four different scorers.
The Colombus Blue Jackets are not far behind with five straight losses following a 4-2 defeat to the New York Rangers, who got two goals from Carl Hagelin.
Celebrate
Alexander Steen kept himself just ahead of Stamkos in the scoring charts by netting his 14th, helping the St Louis Blues to a 3-2 victory over the Calgary Flame. Brian Elliott could celebrate his 100th career win after making 18 saves.
Martin Brodeur stopped 22 shots for his 122nd career shutout as the New Jersey Devils beat the toothless Philadelphia Flyers 3-0, while Robin Lehner had 33 saves in a 4-1 Ottawa Senators victory over the Montreal Canadiens.
Rich Peverley scored in overtime to lift the Dallas Stars to a 4-3 win over the Detroit Red Wings, while Justin Peters enjoyed the third shutout of his career as the Carolina Hurricanes edged the New York Islanders 1-0.
Mike Richards and Anze Kopitar got the goals as the Los Angeles Kings shut out the Buffalo Sabres 2-0, while the Vancouver Canucks saw off the San Jose Sharks 4-2, with five of the six goals coming in the first period.