NHL: Pittsburgh Penguins see winning run ended by the New York Rangers
Last Updated: 07/11/13 7:09am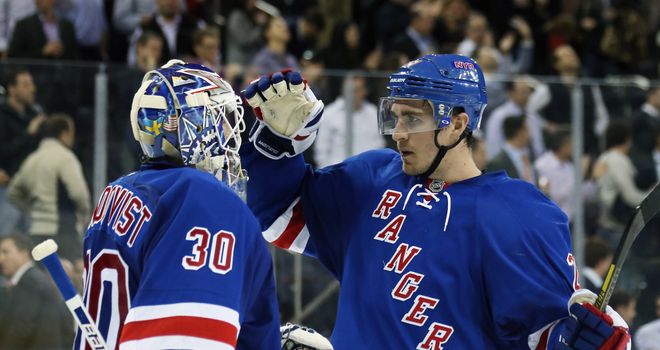 New York Rangers duo Henrik Lundqvist and Ryan McDonagh celebrate
The New York Rangers netted five goals for the second time this season as they ended a four-game winning streak for the Pittsburgh Penguins in a 5-1 victory.
Brian Boyle scored his first goal of the season while Ryan Callahan had his first since a thumb injury for the Rangers.
Hampus Lindholm's first NHL goal contributed to a 5-2 win for the Anaheim Ducks over the Phoenix Coyotes, keeping them at the top of the early league standings.
Corey Perry scored a tie-breaking goal seconds before the second period buzzer and the Ducks did not look back.
Early goals from Jonathan Toews and Patrick Kane set up a 4-1 Chicago Blackhawks victory over the Winnipeg Jets, while Colin Wilson had two goals and two assists to lead the Nashville Predators to a 6-4 victory over the Colorado Avalanche.