NHL: Columbus Blue Jackets snap Carolina Hurricanes' win streak
Last Updated: 11/01/14 9:55am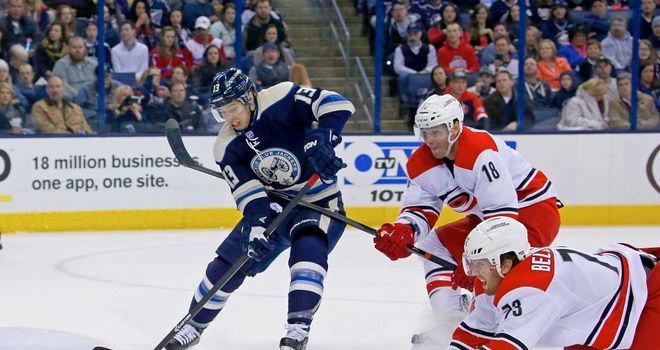 Carolina Hurricanes' winning streak ended on Friday against the Columbus Blue Jackets
The Carolina Hurricanes' winning streak finally came to an end in Ohio as the Columbus Blue Jackets clinched a comfortable 3-0 NHL victory.
Cam Atkinson, Brandon Dubinsky and Boone Jenner scored the goals - Sergei Bobrovsky made 36 saves for the Blue Jackets - as the Canes spurned the opportunity to win a sixth straight game.
The New York Rangers needed Rick Nash to snap a tie and inflict a fifth straight defeat on the Dallas Stars.
Friday's NHL results:
Avalanche 1 Islanders 2 (OT)
Blue Jackets 3 Hurricanes 0
Oilers 4 Penguins 3 (OT)
Rangers 3 Stars 2
Canucks 2 Blues 1
Capitals 3 Maple Leafs 2
New York had not led in the game until Nash poked a rebound beyond Kari Lehtonen to decide the 3-2 win.
Goal-ahead goal
There were just over eight minutes left in the third period at the Verizon Center when Joel Ward scored the goal-ahead goal and Alex Ovechkin duly chipped in with a goal and an assist to lift the Washington Capitals to a 3-2 victory over the Toronto Maple Leafs.
Michael Grabner fired the New York Islanders to a 2-1 overtime win against the Colorado Avalanche at the Pepsi Center. It was a third straight victory for the Islanders and a sixth consecutive away triumph.
Later on Friday the Vancouver Canucks snapped a five-game losing streak as Mike Santorelli scored the tiebreaking goal in a 2-1 victory over the St Louis Blues while, at Rexall Place, the Edmonton Oilers edged the Pittsburgh Penguins 4-3.