Fallon stood down after fall
Last Updated: 20/06/14 7:33pm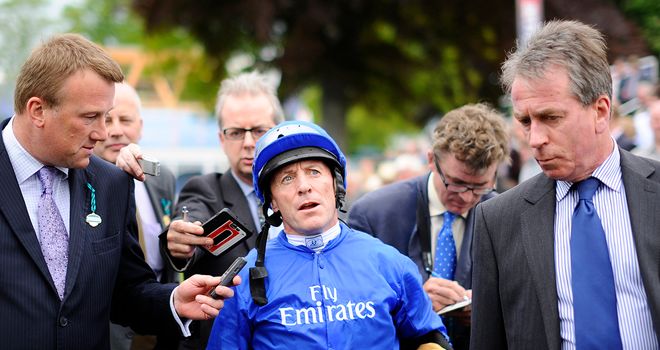 Kieren Fallon: Stood down by the racecourse doctor
Kieren Fallon was stood down for the rest of the day after being unseated on leaving the stalls in the Coronation Stakes at Royal Ascot.
Fallon had been booked by American trainer Kenny McPeek for his filly Rosalind, but she dived when the gates opened and stumbled, firing his rider on to the grass.
McPeek tweeted: "Rosalind has minor cuts. Grabbed left front quarter. Otherwise minor.
"I'm really disappointed for her owner and my team. Something we can't control. It happens."
Fallon came out of the jockeys' room after the last race following physiotherapy for a stiff neck.
The jockey said: "I am fine thanks - a bit stiff. My neck is stiff - I have just had physio which helps and I hope to be fine for tomorrow. It happened very quickly so I don't know (what happened). It is a pity for Kenny and the owners who brought Rosalind all the way from America."
The stewards looked into the incident and concluded that Rosalind stumbled and pulled Fallon over her head.