Phoenix likely for Anthem challenge
Last Updated: 20/06/14 1:12pm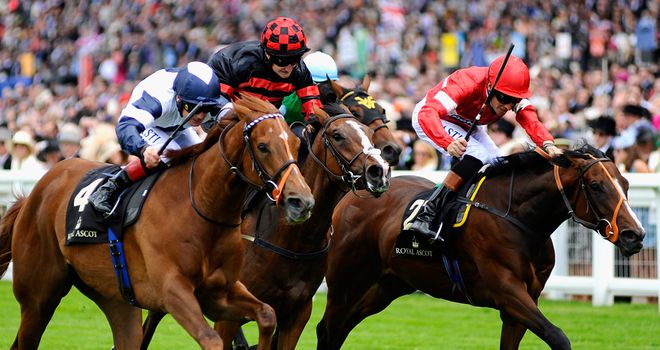 Anthem Alexander (left) is likely to race next in Ireland
Eddie Lynam has had a rethink over potential future engagements for Queen Mary Stakes winner Anthem Alexander.
Lynam had considered sending her to Newmarket for the Duchess of Cambridge Stakes, formerly known as the Cherry Hinton, next month.
However, that would be her fourth run since May 24 and the trainer feels that may be asking a little too much.
Anthem Alexander could instead wait for the Group One Phoenix Stakes at the Curragh on August 10.
"She's come out of the race brilliantly, we've got her home and trotted her up and there's not a bother on her," said Lynam.
"I'll have to talk to her owner (Noel O'Callaghan) but if we went to the July meeting that might just come a bit quick.
"Ascot was her third run in four weeks and she might just benefit from a break.
"My impulse would be to miss Newmarket and wait for the Phoenix Stakes at the Curragh as that would give her an extra three weeks off.
"I'll have to check with Mr O'Callaghan, though, he pays the bills so it will be his decision."