Nicky Henderson could step Finian's Rainbow up to three miles
Last Updated: 01/05/14 2:10pm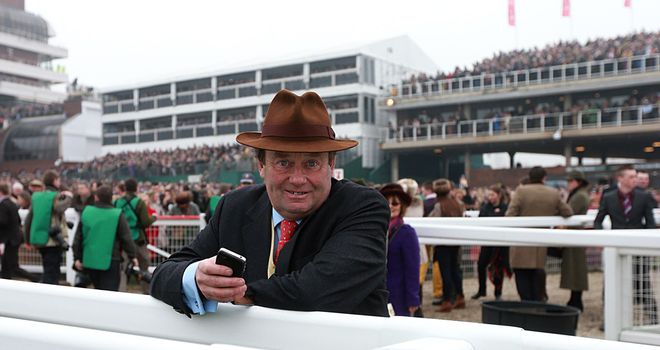 Nicky Henderson could step Finian's Rainbow up in trip
Finian's Rainbow could step up to three miles when he returns from injury next season.
Finian's Rainbow could step up to three miles when he returns from injury next season.
Owner Michael Buckley is thinking of the Charlie Hall Chase at Wetherby on November 1 as a possible starting point for his 2012 Queen Mother Champion Chase winner as the 11-year-old continues on the road to recovery.
Nicky Henderson's charge has been sidelined since sustaining an injury in the Paddy Power Gold Cup at Cheltenham in November.
"He got an over-reach which was pretty deep and was bandaged all the way up to his shoulder," Buckley told At The Races. "Nicky felt his career was probably over and then the horse got an infection, so he spent a lot of time at the vets. They managed to get rid of the infection.
"He then went to Charlie Vigors where all my horses go in the summer time. Slowly he got over that, but it took him a while to walk properly.
"He's been on the horse walker and on nice days he goes in a pen out in the field and as soon as the weather warms up, he'll go into a baby paddock and then into the field for the summer.
"Hopefully he'll race again next year. Although he's 11, my hopes are he might still be reasonably competitive. He was a very late foal and he's only had 18 races, so for a horse of his age he's had very few miles on the clock.
"I've no idea what trip to run him over. He may be a bit slow for two-mile races. He's never raced over three miles, so possibly we should think about going for the Charlie Hall to try him over three. It would be a smallish field in the beginning and see."
Henderson agreed that two miles is now on the short side for Finian's Rainbow.
"I'm sure he's going to want more than two miles. I think he'd appreciate two and a half or even three," he said. "We need to get him back in one piece. It was cruel what happened to him this year as it bore no relation to why he missed the previous bit."