Toronado to test Classic claims
Last Updated: April 10, 2013 5:35pm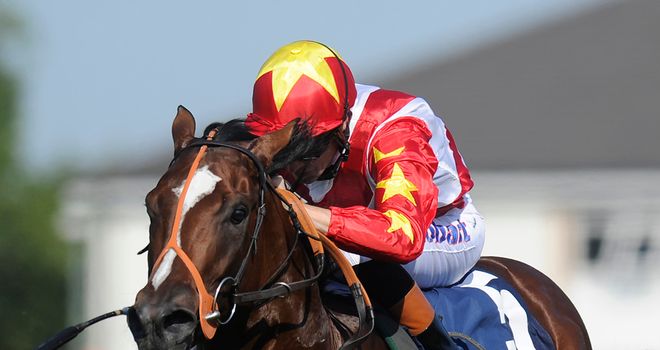 Toronado: Craven Stakes next
Richard Hannon will continue sifting through his strong batch of Qipco 2000 Guineas prospects with Toronado in next Thursday's Novae Bloodstock Insurance Craven Stakes at Newmarket.
Such is the trainer's crop of three-year-old colts, he is already running out of specific trials as well as domestic and overseas Classics to keep them apart.
Van Der Neer has already been given practice at Lingfield last weekend, Olympic Glory and perhaps Alhebayeb are scheduled for the Aon Greenham Stakes at Newbury, and Hannon must still find an opportunity for the likes of four-time winner Havana Gold.
Toronado takes highest order in the Guineas betting, his unbeaten campaign culminating in the Champagne Stakes at Doncaster, while Olympic Glory reached Group One heights in the Prix Jean-Luc Lagardere.
"We took Toronado to Kempton yesterday and he's in great form," said Hannon's son and assistant, Richard junior.
"The plan is to go for the Craven.
"He's a Guineas horse but we're trying to get him to settle, as being by High Chaparral he should hopefully stay a little further.
"Olympic Glory is going for the Greenham and we're really pleased with him.
"One is going for the French Guineas. At the moment, Toronado is going for Newmarket and Olympic Glory for Longchamp, but things could change and we'll regroup after the trials."
Hannon went on: "Havana Gold is a very good horse. I'm not sure where we'll go, either Newmarket or Newbury and he's going to show up in a 2000 Guineas, either here or abroad. We'll see what the Greenham and Craven look like nearer the time."
Reflecting on the rest, which include Autumn Stakes runner-up Montiridge, July Stakes winner Alhebayeb and Van Der Neer, beaten only by Kingsbarns in the Racing Post Trophy, he said: "Montiridge will get further than a mile and he won't make it (Guineas).
"Van Der Neer is screaming out for a mile, he didn't go on the ground at Doncaster and I wouldn't want him to be overlooked.
"We might take Alhebayeb to Newbury. He's a very tough and decent horse."
Charlie Hills has three colts left in the race on May 4 but none look like live contenders.
"Kerbaaj might run in the Feilden Stakes and he probably wants a trip," Hills said.
"Ebn Arab had a slight setback and next week might come too soon, we'll see how he goes.
"Englishman has had a setback, he won't be running."