Classic Gosden
Lack of tactical speed leads to favourite's downfall
By Dave Ord, Doncaster. Last Updated: 10/09/11 6:11pm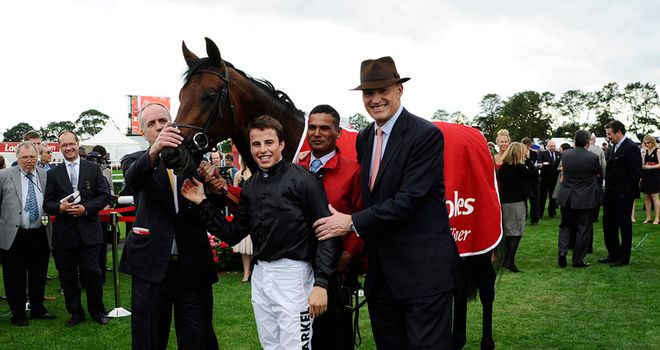 Celebration time for the Masked Marvel team
When John Gosden says the Ladbrokes St Leger is his favourite Classic, you believe him.
Since Shantou gave him a first win in the race back in 1996, he has run only four colts in it.
In 2007 Lucarno won, with stablemate Raincoat back in tenth. Last year Arctic Cosmos was a clear-cut victor, owned by his wife, and now Masked Marvel follows in their hoofprints.
There's every reason to believe he's the best of the bunch too.
This was a red-hot Ladbrokes St Leger, run at a lung-bursting gallop throughout. Buthelezi and Rumh fought for supremacy at the head of the field but crucially at a searching but not kamikaze pace. It meant the rest followed them.
William Buick is fast earning the reputation of being a consummate big-race jockey and he was always perfectly positioned in fourth.
Masked Marvel was travelling noticeably well turning in but still the cards weren't to be played, the trainer's words echoing in his stable jockey's ears.
"I told William not to attack too soon, there was a hell of a strong headwind and if you attack too soon, the last furlong at Doncaster is a very long one," Gosden said afterwards.
Buick sat until he could resist temptation no more and with the furlong marker looming large, he kicked Masked Marvel in the belly. The response won the Ladbrokes St Leger.
In behind Brown Panther was finding and finding for Kieren Fallon but he lacked the gears of the leader while Sea Moon's failure to pick up immediately meant he was racing down dead ends.
Buick kept Masked Marvel about his business and won the Leger by three lengths.
"He's a proper horse and he has been working quite beautifully. I'd have been disappointed if he hadn't been first or second. He has the acceleration you see, you need that kick to win a Leger," Gosden added.
And that in a nutshell sums up for the 2011 race.
Arguments will rage long into the night as to whether Sea Moon was unlucky. Sir Michael Stoute seemed in no mood to discuss the matter as he circled the area outside the weighing room shortly after the race.
It was left to Lord Grimthorpe and Olivier Peslier to face the media and the latter's comment "When I asked him to go he took too long to pick up" probably does just about sum up his race.
However he also looked a horse who needed to be wound up for a sustained run and he never got the chance to engage top gear. A lack of tactical pace? Lack of racing room? Probably both, but there'll be other days for him.
This was Masked Marvel's biggest yet but with a fresh horse and the autumn's big prizes ahead, Gosden is confident it won't be the last time he's centre stage.
No wonder Nathaniel was aimed at the Arc.