Sun Shone At Donny
Milan nearly completed the American Dream
By Dave Ord. Last Updated: 03/09/11 6:25pm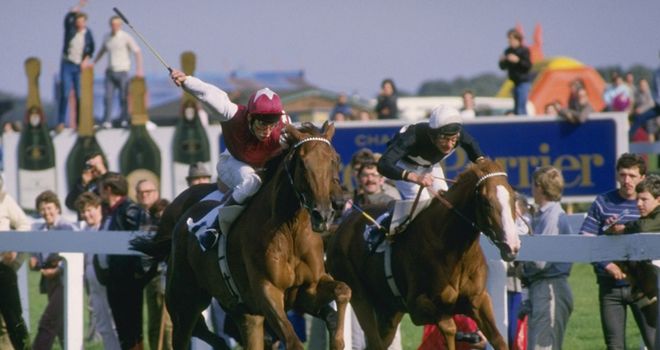 Oh So Sharp: Completes the Triple Crown
Ahead of the 2011 Ladbrokes St Leger, our Dave Ord shares his five favourite memories of the Doncaster Classic.
1983 Sun Princess
I can remember two things from this particular day. One, it was raining, two my dad was at Crofton Working Men's Club. Both were related. You see we were supposed to be at Doncaster to see the filly that ran away with the Epsom Oaks, the white-faced, hard-pulling three-year-old who had rescued the Major's season. But it rained and Ord senior took shelter.
So there I was, glued to a Ferguson 22inch TV (not literally) desperately awaiting news of whether she'd run or not. The owners weren't keen - after all they had an Arc to win -but Messrs Hern and Carson persuaded them to give it a go.
It was the right call. French mudlark Espirit Du Nord and Irish star Carlingford Castle tried to break her spirit but Sun Princess was always doing enough to hold on in a tight finish. She'd have won the Arc three weeks later too had some jockey had the decency to block All Along and Walter Swinburn's dash down the Longchamp rail. I was devastated, Ord senior was at the Club.
1985 Oh So Sharp
Despite the grey flecks in the beard and a hairline that's heading south quicker than Mikel Arteta managed on Wednesday, I'm not old enough to remember Nijinsky. To be fair I wasn't born. But here was my Triple Crown winner.
I saw her win the 1000 Guineas before an Under 13 cricket match away at Kippax (out for 13 off the bowling of future England paceman Chris Silverwood) and the Oaks had been a delight to see.
Here plenty was stacked against her. Stablemate Lanfranco, from one of the great Charles St George staying families, tried to break her from the front and even after he'd been mastered, Phardante threw down the final challenge.
But despite the petrol tank reading empty in the final 100 yards Oh So Sharp showed the courage of a champion to win and make Sir Henry Cecil the first trainer to earn £1million in prize-money in a season. A true great.
1988 Minster Son
Neil Graham's name may have been on the licence but this was another Leger for the Major, who had to step aside for health reasons - before battling an eviction notice. He was still at the helm when launching a three-pronged attack on the Epsom Derby with Willie Carson choosing this colt, which he bred, ahead of Unfuwain and Charmer.
In the end none of the three were able to land a blow behind Kahyasi but two were to redeem their reputations at West Ilsley. For Minster Son that began with victory in the Gordon Stakes at Goodwood but here in the Leger he had to cope with the brilliance of three-time Oaks winner Diminuendo and the burgeoning talents of Sherrif's Star.
Both travelled better than the winner but Minster Son was all heart and responded to the urgings of his breeder by the far rail. He hated to lose and sparked some wonderful celebrations in the winners' enclosure as he wore down Diminuendo in the final quarter mile.
1996 Shantou
This mattered for John Gosden. After serving an apprenticeship under the likes of Vincent O'Brien and carving out a successful career in America, he was brought home by Sheikh Mohammed in 1989 and set up at Stanley House.
Group One success followed - but no Classics - and the trainer was under the media spotlight. Shantou nearly broke the duck in the Derby, finishing third behind Shaamit and Dushyantor, and looked destined for a place again when the Epsom runner-up led him at the furlong pole at Doncaster.
But this time an inspired Frankie Dettori wouldn't be denied and he conjured a final burst from Shantou that broke his rival 50 yards from the post. The jockey punched the air. As I said. It mattered.
2001 Milan
Now here was a performance that oozed class. Aidan O'Brien's charge thrived through the autumn of 2001. After all when he'd finished fifth in the French Derby and fourth in the King Edward VII he looked a colt who was always going to fall a peg or two short against the very best.
But things began to change when he routed his rivals in the Great Voltigeur and he arrived at Doncaster as a serious form player. Backed as if defeat was out the question through the final 48 hours, the 13-8 favourite settled the Classic in a matter of strides a furlong out - slamming Demophilos by five lengths.
He then didn't enjoy the rub of the green when fifth in the Arc and almost signed off on the ultimate high when giving Fantastic Light too much rope in the Breeders' Cup Turf. I was at Belmont Park that day and his desperate charge down the straight to get to within three-quarters of a length of the Godolphin flagbearer remains a vivid memory.
Dave will be blogging live from Doncaster next week and we want your favourite Ladbrokes St Leger memories. Email them across to editorial@sportinglife.com.