Frankel frightens firms
Frankel has the layers running scared following his Greenham win
Last Updated: 17/04/11 12:57pm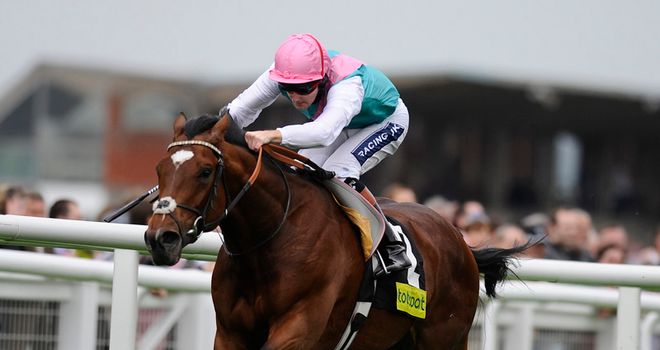 Frankel has the bookmaking fraternity running scared.
Frankel is poised to be sent off the shortest-priced 2000 Guineas favourite since 1970 Triple Crown winner Nijinsky.
Henry Cecil's Galileo colt did what was expected of him on Saturday when comfortably winning the Greenham Stakes at Newbury.
Victor Chandler are not surprisingly the shortest price in the village having laid an ante-post bet of £550,000 at 10-11 before the Newbury race and they now quote him at 4-9.
"We wouldn't be able to lay a bet of that size off with anybody so instead we just want to keep him on our side now," said Victor Chandler's Charlie McCann.
"It's unusual these days for the Guineas favourite to have a trial so punters are usually guessing but we've seen Frankel already this year so there is no mystique about him.
"What is the interesting thing for me is the Derby.
"I don't think he's got a chance of staying with the speed he's got in his pedigree but there is no question it would be great if he ran - he would add so much intrigue to the race.
"What with Henry Cecil also taking the wraps of World Domination yesterday too, people are talking about the similarities of 1993 when Cecil had the favourite in Tenby but he won it with Commander In Chief.
"However, just like World Domination, Commander In Chief was unraced as a juvenile too.
Derby Doubts
"It's a very exciting time, we're shortest about him for the Guineas at 4-9 but biggest about the Derby (4-1), as we don't think he'll run at Epsom."
Totesport are 1-2 about Frankel for the Guineas currently.
"The problem the layers have for the Guineas now if you offer 4-5 about Frankel is the possibility of a small field," said totesport's George Primarolo.
"He's likely to be 1-2 on the day we think because there are doubts about the participation of Wootten Bassett and Dream Ahead, two of his major rivals.
"On what we've seen the Guineas should be a penalty kick for him.
"You can see one of the main protagonists going to France.
"The slightly strange aspect was that some firms shortened him for the Derby, especially after World Domination won.
"Connections were probably hoping Frankel would mature over the winter and settle better but that wasn't the case yesterday. If he pulls hard, coupled with the undulations of Epsom, you'd have to be worried about him staying the Derby trip.
"World Domination has probably made their mind up for them and I wouldn't be surprised to see that one next at Lingfield as Henry seems to like that race."