On Demand
Keep up to date with the progress of Sky Sports News horse On Demand.
Last Updated: 26/08/14 1:42pm
Sky Sports News teamed up with Great British Racing to buy a racing horse in a bid to show viewers what it takes to develop a race horse.
Viewers have since voted for the filly's name and colours and the horse, On Demand, has raced four times so since the end of 2013.
You can read trainer Andrew Balding's latest blog here
To find out more about On Demand and Great British Racing check out our archive below.
On Demand fit to race
Sky Sports racehorse 'On Demand' has been declared fit to race at Ffos las on Thursday.

Click here for the full story
On Demand plans return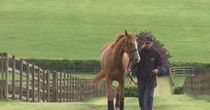 Andrew Balding sets On Demand a fitness plan ahead of her return to the race course planned for mid-July.

Click here for the full story
On Demand living high life
Sky Sports News visited Berkshire to see how the channel's race horse On Demand is getting on during her period of rest.

Click here for the full story
On Demand to rest
In his latest blog, trainer Andrew Balding says On Demand is progressing well but needs time to recuperate.

Click here for the full story
On Demand finishes third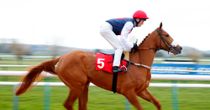 On Demand, the Sky Sports News racehorse, finished third in her fourth race, again, at Southwell.

Click here for the full story
On Demand second at Southwell
On Demand, the Sky Sports News racehorse, was once again narrowly denied an elusive first victory at Southwell.

Click here for the full story
On Demand back to Southwell
On Demand has been preparing for another race at Southwell - and trainer Andrew Balding is pleased with her progress.

Click here for the full story
On Demand progressing well
On Demand finished a respectable third on her seasonal reappearance at Southwell in February and trainer Andrew Balding is pleased with her progress.

Click here for the full story
On Demand comeback confirmed
Trainer Andrew Balding is confident Sky Sports News' horse On Demand will turn potential into victories on the track during the coming year. A lung infection has kept the filly out of action since her debut but she is nearing full fitness now.

Click here for the full story
On Demand comeback confirmed
Sky Sports News racehorse On Demand will race for a second time on December 6 at Lingfield. The filly will be entered in a one-mile maiden race on the all-weather track after impressing at Park House Stables.

Click here for the full story
On Demand nears return
Sky Sports News racehorse On Demand is nearing a return to the track, following her debut in September. A slight injury has since then limited her work but trainer Andrew Balding, who is overseeing On Demand's progress at his Park House Stables in Kingsclere says she will be back in action soon.

Click here for the full story
On Demand makes impressive debut
On Demand was unplaced but ran a race full of promise on her debut in the EBF & Sam Sheppard Quidhamption Maiden Fillies' Stakes at Salisbury. The two-year-old was still in with a shout with a furlong to go but weakened in the final stages of the race to finish sixth, just a couple of lengths behind eventual winner Rosehill Artist. Her jockey David Probert was delighted with the way she ran and is hopeful there is much more to come from the filly.

Click here for the full story
Debut in sight
On Demand's training has stepped up ahead of her racecourse debut. The filly produced her best piece of work yet, cantering six furlongs on trainer Andrew Balding's new all-weather gallop and he estimates she is three weeks away from being ready.

Click here for the full story
On Demand progressing nicely
The filly eased off her training during a growth spurt but is now back in action and trainer Andrew Balding says he is happy with her development at his Park House Stables in Kingsclere.

Click here for the full story
On Demand debut delayed
It was announced in May that, due to a growth spurt, On Demand's racetrack debut would have to be delayed by short period.

Click here for the full story
Blue is the colour
We gave Sky Sports News viewers the chance to select On Demand's colour scheme via an online vote - and here is the option they went for...

Click here for the full story
Our horse named
The Sky Sports News viewers voted on a selection of possible names for our horse, chosen by Sky people. Click here to see which name they went for...

Click here for the full story
Sky Sports News teams up with Racing for Change
In January we announced Sky Sports News has teamed up with charity Great British Racing to show viewers the work that goes into developing a racing horse.

Get all the details of the project here