Catching Pigeons
Last Updated: 19/07/13 8:35pm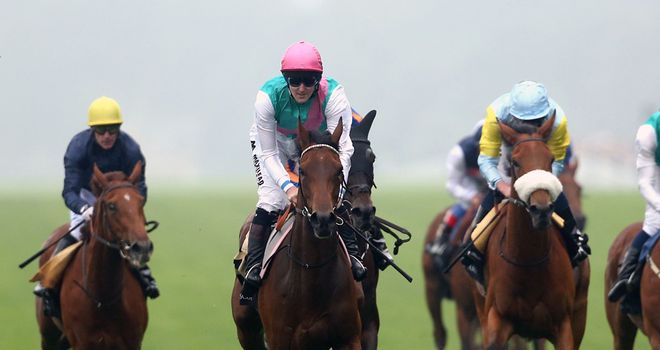 Riposte (centre): Keeps progressing
Catching Pigeons brings us the news of who is on fire in Newmarket - literally - and the best bets for the weekend.
The bare form of Riposte's Ribblesdale Stakes form might not stack up to an enormous amount, but it's not as if Talent's Epsom victory is bombproof with the also-rans having completely failed to shine in their subsequent starts.
In any case, it's not as if Riposte hasn't stepped up to the occasion all year, showing gradual progression throughout the season. And the evidence of her recent homework suggests that her Ascot victory has, if anything, brought her along rather than knocked her back. She is fancied to win the Darley Irish Oaks.
She looked on great terms with herself when working alongside Court Pastoral on the Al Bahathri all-weather gallop on Wednesday and looks to be strengthening up all the time - she really is a brute of a filly these days, but she enjoys her work too.
Mike Marshall, Sir Henry Cecil's former assistant, has been taking a more hands-on role in the last couple of weeks although it remains unclear whether his name will in due course replace Lady Cecil's on the licence.
Mighty Yar, highlighted here seven days ago, won well at Sandown in midweek and looks a horse to follow while another Cecil name to note is the two-year-old Satellite, who will be making his racecourse debut, in a fortnight or so. He's smart.
Ed Walker found his stable to be on fire - literally - last weekend when an unattended barbecue set light to a tree at his yard on the Hamilton Road.
Walker had fellow trainer Gay Kelleway to thank for spotting the fire in time to prevent it from spreading.
He saddles Hopefilly in the Super Sprint and his likeable filly has improved since making a winning debut, but the Hannons strongly fancy Lilbourne Lass - who has been kept back for this contest since her last success - and Alutiq also gives local trainer Eve Johnson Houghton very strong claims. She has been the absolute apple of her trainer's eye for a while.
Strongest word at Newbury comes for Music Master, who we have positively mentioned here before, in the Luck Greayer Bloodstock Shipping Conditions Stakes.
Henry Candy is keen for this colt to double his career tally and he looks sure to want all the beating.
The Kingstone Warren trainer plotted an ambitious path after Music Master won his maiden at the Craven meeting, and he has run well on both his subsequent starts.
Having divided the smart Dundonnell and Baltic Knight in a Listed event at Newmarket, he finished fifth in the Jersey Stakes, and would have finished closer had he been able to race with the principals on the middle to far side of the track.
His work since that run has been of a high order and with just four opponents here, the drop in class could afford a confidence boost before a return to higher-grade targets.
Clive Cox has a sound chance with Black Spirit if he is in the mood in the Listed Sharps Brewery Steventon Stakes at Newbury, and should also go close with Poetic Dancer in the Tamdown Group Fillies Stakes at Newmarket.
She began the season with a good effort at Doncaster but then flopped badly on the same course two and a half weeks later. However she has benefited from a nice break, will enjoy the fast ground and is fancied to return to form with her rider taking off a valuable 5lb.
Waila finished well held behind the Riposte in the Ribblesdale but connections were a little disappointed with that performance, having hoped for something better, but she did spoil her chance by racing too freely in the early stages.
She was given the go-ahead to run in the Newsells Park Stud Stakes after working under Ryan Moore on Long Hill in midweek and even a repeat of that Ascot run would make her hard to beat.
Also given a good mention on the card at Headquarters is Endless Credit in the finale. He moved nicely on the Watered Gallop and looks to be coming to himself mentally and physically.
Paul 'Old King' Cole heads to Ripon with Complicit and might take some beating in the EBF Yorkshire.com Maiden Stakes.
Cole could have run the son of Captain Rio in the Super Sprint, but has sided with this less frenetic option and the move should pay off. Complicit's breeding would suggest he wants easier ground, but the dam had form on a faster surface and he will be sharper for his very encouraging debut effort in a Listed race at Deauville for which he started favourite.