Nigel Twiston-Davies is happy with his preparations with The New One
Last Updated: 27/02/14 8:50pm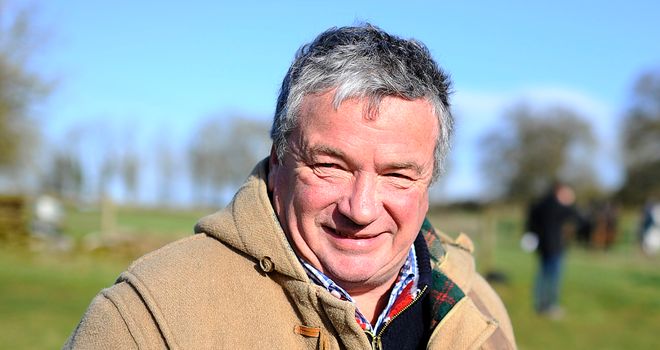 Nigel Twiston-Davies: Happy with The New One
Nigel Twiston-Davies delivered a positive bulletin regarding The New One at his media open day on Thursday.
The six-year-old, going for the Stan James Champion Hurdle on the opening day of The Festival, Champion Day, Tuesday, March 11, is the horse he would love to see winning at The Festival.
The trainer said: "He looks very glossy and happy. He is as easy as you can get. We have not had to do any racecourse gallops as we have the proper facilities here.
"He is just a nice horse - totally uncomplicated. There will be pace but, if there is no pace, others will struggle more than us. The New One quickens and has a phenomenal turn of foot. Someone showed me some statistics. He covered the last two furlongs, over the same track as Hurricane Fly last year, unbelievably quicker. I don't understand how to access such information.
"I hope his turn of foot will win him the day. We don't know if he will win - he has never met Hurricane Fly and Our Conor.
"He was on an impossible stride at the last in the Christmas Hurdle at Kempton - that was the problem. His jumping has been absolutely superb all along and it was just bad luck. The reason we got beat at Kempton was that mistake at the hurdle. At Cheltenham you can make a mistake at the last because there is the great big hill to put it right, but at Kempton there is only short-run-in. He did very well to get back within a half-length of My Tent Or Yours.
"There are not many people who would disagree me when I say he would have won if he had jumped the last properly. It was just hard luck. One horse was on a good stride and other wasn't.
"We won the Champion Hurdle four years ago but the horse who was taken out of the race, Binocular, turned up again! Khyber Kim won by seven lengths I think but some apparition came and stuffed him. There you are.
"If The New One gets comprehensively stuffed, I would then look at three miles over hurdles. Big Buck's is not going to be around forever. The New One could go over fences but he seems so good over hurdles why bother with fences. We will probably school him at the end of the season to see how he likes fences.
"Hurricane Fly must be the one to beat in the Champion Hurdle. He has stuffed the others twice. You make a case for us beating My Tent Or Yours and Hurricane Fly has beaten the others.
"It is less than two weeks to the Champion and things can go wrong - hopefully they don't.
"The horses have been good form all season. This time last year, we had a few coughing. We have not had that so far but it could happen next week!"