Sprinter Sacre heads home before Newmarket date
Last Updated: 27/12/13 4:47pm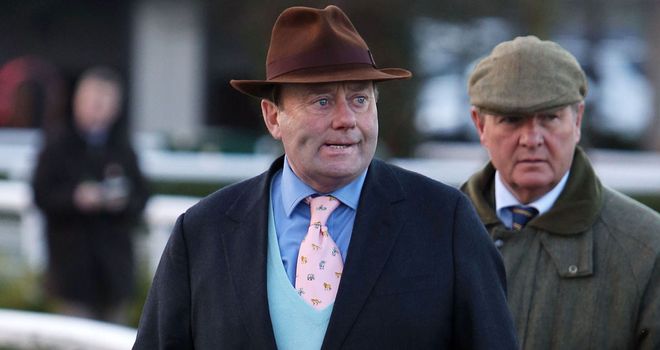 Nicky Henderson: Taking careful approach with Sprinter Sacre
Jump racing's best-known horse Sprinter Sacre is set to undergo tests at Newmarket following his flop at Kempton Park on Friday.
Having taken initial veterinary advice with regard to the possibility of the the seven-year-old suffering an irregular heartbeat, trainer Nicky Henderson elected to return him to his training establishment at Seven Barrows.
Henderson said:" We are still on the heart monitoring side of it, and it's still irregular.
"We were thinking of taking him to Newmarket straight away but I think the horse has had a lot of stress today and I'd rather take him home tonight.
"At the fifth fence he was Sprinter Sacre at his exciting best, and two fences later Barry had to stop him very quickly.
"We have got to investigate this, he's not distressed and he's not going to have a heart attack or anything.
"He is going to go up to Newmarket tomorrow and he has an appointment at 10am with Celia Marr (specialist in equine internal medicine and cardiology) at Rossdales.
"She is the best person for these sort of issues, we used her when Spirit Son was paralysed."
Denman is a recent case of a top National Hunt horse recovering from what is often known as atrial fibrillation.
The 2008 Gold Cup hero had an operation to correct a problem that September and although he was beaten on his racecourse return the following February, he was capable of finishing second to Kauto Star back at Cheltenham and winning the Hennessy a few months later.
Henderson went on: "We don't go around listening to all the horses' hearts - if one worked badly then you might do but Sprinter Sacre has never given us any cause for concern.
"The one everyone has mentioned is Denman, and he went on to finish second in three more Gold Cups.
"If we can get to the bottom of it, then we know what we can do to repair it."