Silver By Nature has suffered a fatal injury
Last Updated: 21/12/13 1:04pm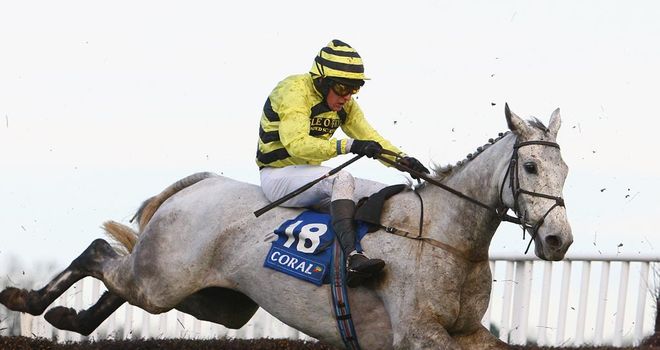 Silver By Nature: Fatally injured
Popular staying chaser Silver By Nature suffered a fatal injury at his home on Tayside on Saturday morning.
The Lucinda Russell-trained 11-year-old broke a hind leg on the gallops as the grey geared up for another tilt at the Coral Welsh National at Chepstow on December 29.
Runner-up in the 2009 Welsh National, Silver By Nature won seven races, including back-to-back renewals of the Grade Three Grand National Trial at Haydock, from 28 starts under Rules.
A statement posted on the Kinross handler's website, www.lucindarussell.com, read: "It is not the death of a human, but Silver By Nature breaking his hind leg on the gallops at home is very hard to cope with.
"I think much of the time in these situations you feel sorry for yourself, but while the grief is for us and those who loved him, it is mostly for 'Tonto' who was one of the kindest, most honest, creatures that ever walked this earth, and I wish he was still with us now. The world is a sadder place without him.
"While he was a fabulous racehorse on soft ground over a long distance, it was his intelligence and nobility that set him apart. We will remember with pride his seven wins, including two wonderful days at Haydock and his second in the 2009 Welsh National.
"However, what made him special is best highlighted in the pre-parade ring at Chepstow before the Welsh National, with Geoff Brown (his owner/breeder) walking down the steps from the owners' room 50 feet above him.
"'Tonto' turned up to him, identified him out of the crowd and neighed at him. It remains one of the most amazing illustrations of the soul of a special horse. He may have been talented racehorse but he had an awareness of himself and those about him which made him different.
"Whilst the whole yard is saddened by his death, a special mention should go to Geoff Brown, and those who looked after him and knew him the best, Angie, Jaimie, Erin and Pete."