Two further races to OLBG Mares' Road to the Cheltenham Festival
Last Updated: 20/12/13 2:46pm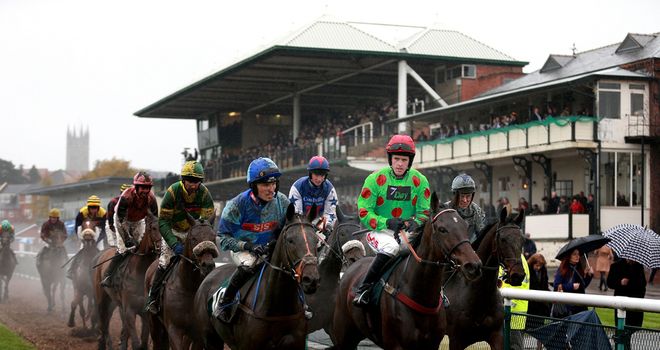 Warwick: Stage one of the additional races
Sports Betting Community OLBG.com have announced the addition of two further races to the OLBG Mares' Road to the Cheltenham Festival.
The prestigious Grade Two OLBG.com Mares' Hurdle at Ascot (registered as the Warfield) will take place on Saturday, January 18 and the Listed OLBG.com Mares' Hurdle at Warwick will be staged on Saturday, February 8.
Ascot's £40,000 three-mile race has long been a target for top Festival hopes. Sparky May (2011) and United (2009) both won the race before finishing runner-up to Quevega at The Festival. Kentford Grey Lady (2012) and Refinement (2008) were second in both the Ascot and Cheltenham Festival races.
Nick Smith, Head of Communications at Ascot, said: "All champions need credible opposition and we are delighted to be playing our part in the OLBG Mares' Road to Cheltenham at Ascot, and look forward to seeing the winner line up in March."
OLBG helped to arrange an unscheduled race for mares at Warwick last year following the abandonment of Grade Two races at Ascot and Doncaster and are pleased that the British Horseracing Authority has added the race to the calendar for 2014.
The £20,000 Listed race on February 8 over two miles and five furlongs enhances the series and provides another opportunity for mares to obtain black type. It comes just over four weeks before the £85,000 OLBG Mares' Hurdle over two and a half miles at The Festival and therefore could be an ideal final prep race for challengers to Quevega's crown.
"Sponsoring the top tier of mares' races and developing the Mares' Road to Cheltenham helps to create opportunities for quality fillies and mares to demonstrate their ability on the racecourse before going to the paddocks. We are thrilled to be supporting something so fundamental to the future of British National Hunt horse racing," said Stefanie Reeve, PR Manager for OLBG.com.
Cheltenham Racecourse recently announced a change in The Festival running order to allow Channel 4 to broadcast live the OLBG Mares Hurdle, giving terrestrial viewers the chance to see Quevega potentially making racing history.
Carl Hicks, Executive Producer for Channel 4 Racing, said: "We are delighted that the mares' race at The Festival will now be live on Channel 4 as Quevega looks for an unprecedented sixth successive win in the contest".
Channel 4 viewers will also be able to follow the story of her competitors during the season