The Fugue is being strongly feared by her rivals in the Hong Kong Vase
Last Updated: 02/12/13 12:09pm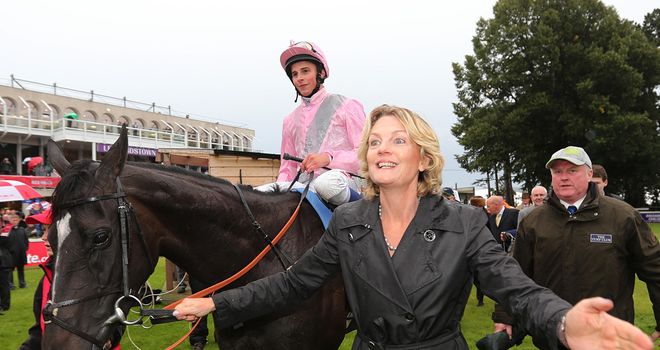 The Fugue: Arrived safely in Hong Kong
The Fugue arrived safely at Sha Tin on Monday and appears the one to beat in Sunday's Hong Kong Vase according to the connections of her main rivals.
John Gosden's charge flew in with the Jeremy Noseda-trained Grandeur, who contests the Hong Kong Cup on the same card at the weekend, early on Monday.
The four-year-old was last seen when being denied by Magician in the dying strides of the Breeders' Cup Turf and she will try to get back on the winning track in Sunday's 12-furlong heat.
Melbourne Cup second Red Cadeaux won the race last year but he will have to concede weight to The Fugue, a factor which is not lost on connections.
Robin Trevor-Jones, travelling head lad to trainer Ed Dunlop, said: "He's as fit as a flea. Gerald (Mosse) has such a great record on him including winning this last year, but he has never ridden him in work and we are not planning to change that successful formula anytime soon.
"And after the amazing job Gerald did with him in Melbourne last month from such a difficult draw, I'm not even getting too worried about what gate he gets on Thursday.
"We want a proper gallop on Sunday, and I'm not sure where it is going to come from, but our main problem is The Fugue and we've got to give her 4lb. Without her we are the one to beat," he told www.hkjc.com.
Red Cadeaux enjoyed a spin on the all-weather track at Sha Tin on Monday and Mount Athos, who finished third in Melbourne, was another to have an easy stretch.
Charlie Henson, assistant trainer to Luca Cumani, said: "I'm very happy with him. His work on Saturday was very good - exactly what we wanted - and he looks to be in good shape.
"He ran his last 400 metres in 22.6 seconds and it was a similar gallop to his work immediately before the Melbourne Cup.
"His work at Werribee before coming here was good and he's holding his condition in good fashion. It's very different here compared to Werribee. So much more to see, so much more going on but he's settled in well."
Dandino finished fifth in Australia and his team were satisfied with what they saw in a light canter.
Paul Francis, travelling head lad to trainer Marco Botti, said: "He's had a nice canter. I'm pleased with his coat considering how cold it was in Melbourne, and though he's fit he comes here fresher than last year having had less races. The Fugue is the one to beat."
French filly Moonlight Cloud shoots for glory in the Hong Kong Mile and the Freddie Head-trained filly stretched her legs on the all-weather track.
She is making a rare appearance outside of France and her team believe they have most to fear from the Richard Hannon-trained Sky Lantern in their Group One heat.
Regis Barbedette, travelling head lad to Head, said: "She has only travelled this far once before, that was for the Breeders' Cup in California. That day, she was beaten because of a bad draw and an awful race. The trip did not bother her.
"Freddie Head told us to give her a light canter over six furlongs today. She needs to relax a bit and that is exactly what this piece of work will do. Freddie arrives on Wednesday. We will ask for more then.
"The weather here is great and the track will suit her. She will enjoy turning right rather than on the left hand, which she never really liked.
"Our main concern in the race would be Sky Lantern. We also had a look at the local prep race and we always watch out for local milers, as they are very good."