Long Run scoped dirty straight after Charlie Hall Chase
Last Updated: 03/11/13 1:47pm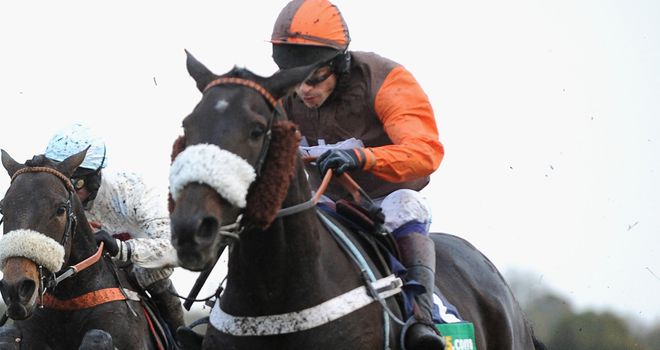 Long Run: Scoped badly after the race
Connections of Long Run are determined to find out why the remarkably consistent chaser ran so badly at Wetherby on Saturday.
The 2011 Cheltenham Gold Cup and dual King George VI Chase hero failed to finish in the first three for the first time in 27 career starts when he trailed in fifth, some 41 lengths behind the winner Harry Topper, in the bet365 Charlie Hall Chase.
Long Run scoped dirty straight after the race and he will have a trachea wash on Monday after trainer Nicky Henderson reported the eight-year-old to be "100%" on Sunday.
"He's 100% today. After the race yesterday we had him scoped and he had a significant amount of mucus and a bit of blood in there as well which is significant," said the Seven Barrows trainer.
"He had a trachea wash done on Monday which was 100% clean. From what was in there yesterday you'd be fairly confident explains what happened. He has obviously run miles below form.
"He is fine this morning. We will have another look at him like we did last Monday and the laboratory can have a look and we will see if that concurs with what the vet found on the racecourse yesterday in which case he has bumped into something since last Monday.
"It's a bit like a human being. You go to bed one night feeling great and then wake up in the morning feeling pretty awful. You can only test so much.
"We know he was all right last Monday, but he obviously wasn't right yesterday, which is frustrating, but we've been there before.
"It's a pity because he'd never run a bad race in his life, so we know that wasn't him. We've just got to get him back to absolutely top form. He didn't get home at all yesterday.
"We'll get the results back from the lab and then we will have to think what we do. I don't know, we'll just see, but it's possible we will just have to leave the Betfair (Chase at Haydock) out of it and go straight to the King George. It just depends. We are not going to jump to any conclusions. We've just got to iron out what happened.
"If he had finished third or fourth beaten five or six lengths you would say ouch did he need it , or is he not as good as he was or anything like that, but when that's happened you know something's wrong.
"We will have a look tomorrow and then we will keep everybody posted, but he is 100% today. He's sound, he's bright and perfectly chipper."