Hayley Turner hopes lessons can be learned from her recent fall
Last Updated: 23/10/13 3:19pm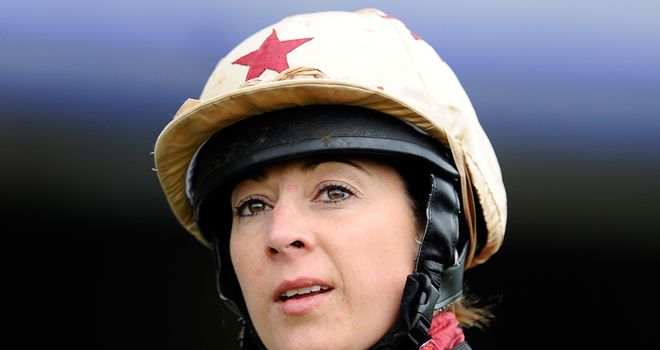 Hayley Turner: Hopes lessons can be learned
Sidelined jockey Hayley Turner hopes lessons can be learned about the handover of riders to hospitals following injuries at the racecourse after her own recent experience.
She suffered a broken pelvis and vertebrae when Seal Of Approval fell in the Park Hill Stakes at Doncaster last month but these were missed by medical staff and only came to light when she requested scans herself several weeks after the incident.
Turner, who is now expected to return to the saddle in January, told Racing UK: "It's been a catalogue of errors since my fall at the St Leger meeting.
"Scans ten days ago revealed that I fractured three vertebrae - two months after my fall. This came on the back of it taking a month to detect I had broken my pelvis.
"I know there is a handover from the racecourse doctor to the hospital but more needs to be done," she continued.
"The hospital doctors need to be fully briefed on what happened and perhaps even shown a video of the race. They need to understand that a fall from a racehorse is serious compared to falls from other horses.
"X-rays often don't show breaks immediately and I should have been referred to have a scan straight away.
"The Professional Jockeys' Association tell me that 25% of breaks in vertebrae go unnoticed initially with jockeys. I had no idea what had happened, what parts of me could be broken, so I simply went along with what the doctors said. It was only when I continued to ache and feel pain that I had further scans.
"I have spoken to Paul Struthers at the PJA, who says he will examine the procedure and hopefully we can all learn from this."