James Fanshawe looks forward to 2014 with Ascot winner
Last Updated: October 20, 2013 1:06pm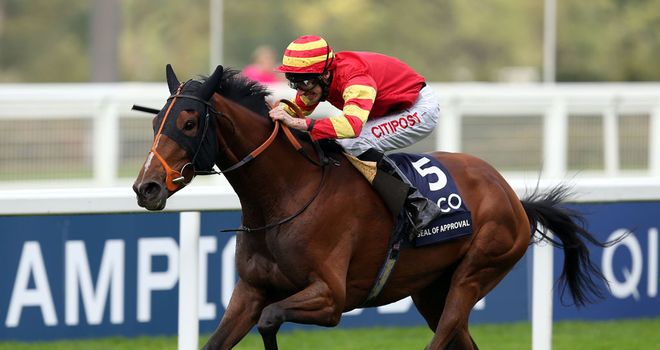 Seal Of Approval: Stays in training
James Fanshawe is already looking forward to next season with Seal Of Approval following her brilliant display at Ascot on Saturday.
The four-year-old suffered a heavy fall on her previous start in the Park Hill Stakes at Doncaster last month, bringing jockey Hayley Turner's season to a premature end.
Seal Of Approval showed great mental and physical toughness and a touch of brilliance as she put that behind her to run out a hugely impressive four-length winner of the Qipco British Champions Fillies And Mares Stakes.
It seems unlikely the filly will make another appearance in 2013, but Fanshawe hinted his charge could raise her game even further next season.
Fanshawe said: "She seems fine this morning. She's been out in the paddock, she seems very pleased with herself and we're very pleased with her, too.
"I think the only reason she was a big price was because she'd fallen at Doncaster as she'd done nothing wrong up until then.
"I'm pretty sure that's her finished for the season as I can't see an awful lot left for her. There have been no other decisions other than she stays in training next year.
"She's won four out of her six races and has won a Group One by four lengths. She has the size and scope to suggest she can continue to progress."