Dandino was a running on second to Fawkner in the Caulfield Cup
Last Updated: 19/10/13 9:26am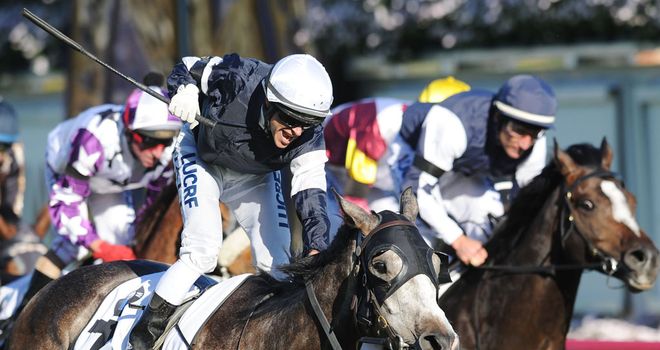 Fawkner wins the Caulfield Cup under Nicholas Hall
Marco Botti believes Dandino is the "perfect horse" for next month's Melbourne Cup after seeing his charge run a fantastic race to fill the runner-up spot behind Fawkner in the BMW Caulfield Cup.
Bought by Australian Thoroughbred Bloodstock earlier in the year with a view to ending up at the Spring Carnival, Dandino has enjoyed an excellent campaign.
Runner-up in the Jockey Club Stakes at Newmarket and the Hardwicke Stakes at Royal Ascot, the six-year-old claimed the American St Leger at Arlington Park in mid-August to set him up perfectly for his trip Down Under.
Making his Australian debut under Craig Williams, who was chasing his third successive Caulfield Cup triumph, Dandino was dropped out towards the rear in the early stages of the mile and a half Group One contest.
He began to make headway heading down the back straight, but found himself behind a wall of horses and Williams was forced to switch wide to deliver his challenge at the top of the home straight.
Once in the clear, Dandino fairly rattled home, but it was all too late as the Robert Hickmott-trained Fawkner held on to claim victory in the hands of Nicholas Hall.
Dear Demi was third, ahead of former Sir Henry Cecil-trained six-year-old Jet Away in fourth.
While bemoaning his luck, Newmarket-based Botti was understandably delighted with Dandino's performance.
"We are thrilled with the horse. It was a great performance and he ran a huge race," Botti told Press Association Sport.
"We were worried when we saw he was drawn wide (stall 19). Craig knows the track very well and gave him a good ride.
"He had to take him back and suffer and when they quickened up he had to go around horses that were stopping in front of him.
"He flew home in the straight and I think he showed he was the best horse in the race. With a bit more luck in running, he probably would have won.
"You would have to say after that run he looks the perfect horse for the (Melbourne) Cup.
"He went to sleep early in the race and then showed a very good turn of foot. I've never seen a slow horse win the Melbourne Cup. You need that acceleration and he has that.
"Let's hope he comes out of the race well in the next week or so and has a bit more luck in running in Melbourne."
While jockey plans for the 'race that stops a nation' on November 5 are yet to be decided, Botti admits he would love Williams to be in the saddle again.
"The jockeys we have been approaching wanted to see how he ran in the Caulfield Cup first, so I need to discuss things with his owners now," said the trainer.
"Ideally I would love Craig to ride him again as he rode a good race today and knows the horse, but we will see.
"I know he has other horses in the race he can ride. Let's hope after today he wants to ride Dandino."
Dandino was the only British-trained runner in the field as Nicky Henderson's Forgotten Voice failed to make the cut earlier this week.
Fawkner provided powerful owner Lloyd Williams with his first Caulfield Cup, having previously seen both Nayrizi (1989) and Green Moon (2011) fill the runner-up spot.
The owner's son, Nick, told www.springracingcarnival.com.au: "It's quite amazing and it was borne out of quite an amazing situation where this horse was very closely beaten in the Emirates Stakes and we decided to take him to Perth for the Railway (Stakes) and someone rang up and wanted to buy him.
"We'd agreed to sell him and they didn't stump up the money and I had said to dad that at a mile he was probably handicapped out of the big miles because he'd had a great spring last year.
"Dad said he was glad the bloke didn't pay because he'd been thinking about it and thought we could win the Caulfield Cup with this horse.
"I think this is the hardest race to win in Australia. It's a lot harder to get a horse to the Melbourne Cup but by nature of the way this race is run there are always a lot of hard luck stories and it's a very hard race to win."