Indian racing officials seek clarification
Last Updated: 10/10/13 1:22pm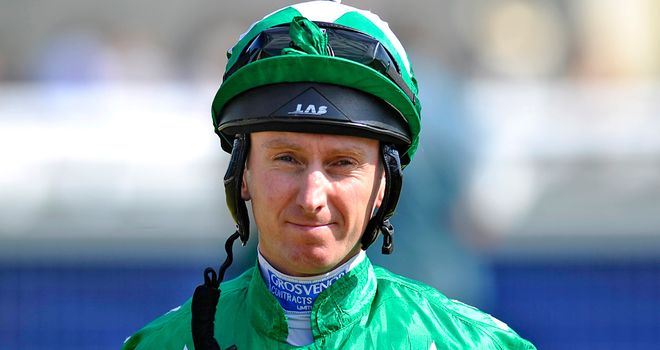 Dwyer: Ban was not reciprocated
Royal Western India Turf Club officials are remaining tightlipped over the Martin Dwyer case until they have heard from the British Horseracing Authority over their decision not to reciprocate the jockey's 56-day riding ban.
The Derby-winning jockey made a number of visits to the subcontinent to argue his case after it was alleged he did not ride the filly Ice Age on her merits at Mahalaxmi in February.
At one stage the suspension was increased to eight months on appeal by the board of appeal of the RWITC.
The ban was subsequently returned to 56 days on a second appeal, but the BHA said on Wednesday that Dwyer's ban would not be imposed in Britain.
Adi Narielwala, chairman of the RWITC board of appeal, said the Indian racing governing body is now awaiting the reasons behind the BHA's stance.
He said: "At this stage there is no comment.
"We will wait until we receive the papers from the BHA and look at them carefully before giving our thoughts."
Dwyer always maintained that he was innocent of any wrongdoing, and that his
mount had not moved correctly and that she had suffered a nosebleed during the race.
Sadakshara Padmanabhan, Dwyer's Indian-based representative throughout the lengthy appeal process, said the RWITC had mishandled the case from the outset.
He said: "I had full faith the BHA would not reciprocate this ban as there were so many things wrong with the whole inquiry.
"I feel that the RWITC stewards did not do a very good job at all in this particular case.
"The horse had a history of bleeding and they did not take this on board at all. They did not know how the horse would react on a racecourse and what levels of stress it was under.
"There was also no leading evidence to enhance the punishment. This cannot be done in a law court, it can only be done in a high court.
"I think they (the stewards) should be more careful in future when they mete out punishments, as this isn't the first time something like this has happened in India."