Frankie Dettori admits it was tough watching Treve win the Arc
Last Updated: 10/10/13 10:43am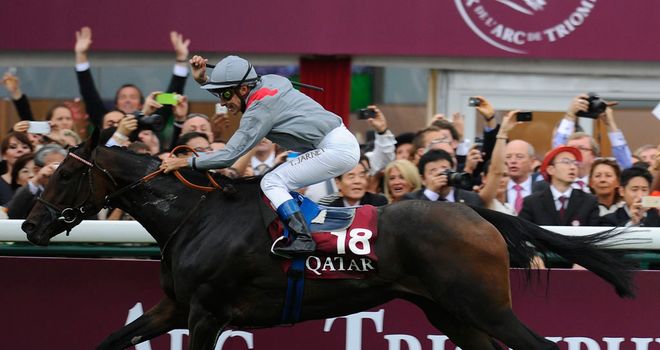 Treve wins the Arc under Thierry Jarnet
Jockey Frankie Dettori has spoken for the first time of his heartbreak at missing the winning ride on Treve in Sunday's Prix de l'Arc de Triomphe at Longchamp.
Dettori suffered a fractured ankle in a fall going down to the start at Nottingham last Wednesday which ruled him out of the rest of the season.
He told At The Races: "She's been a superstar from the first minute that I rode her and I was just waiting for the big day to come.
"You never know what is around the corner and when I was lying on the floor in pain I was just praying to God it was just going to be a twist or a sprain, but I wasn't that fortunate.
"The next minute went like a flash. I went to hospital, got it X-rayed, got it operated on, had it pinned, then on Sunday morning I just sat in front of the TV. When 3.15pm came and it was the Arc, one side of me was delighted that she won as I'll be riding her in future.
"But it would have been my 200th Group One winner, my fourth Arc, and back on the big stage again as I hadn't had many chances this year. I was taking painkillers, not because of my leg but because I had a broken heart. It was a very harsh Sunday for me but you've got to put everything into perspective.
"I'm not dead, I'm still going to come back and the filly is still going to be there for me - it's just bad luck."